What are bingo bonus codes?
The term 'bingo bonus codes' has become synonymous with many forms of bingo promotions and these terms are generally interchangeable. Some bingo codes will require entering when registering or making a deposit in order to be eligible for an offer, but others are applied automatically by following a link on our website.
If you find a promo that doesn't have a code for you to use, then it might well be that it doesn't need one, and you can simply opt in once you've registered or signed in.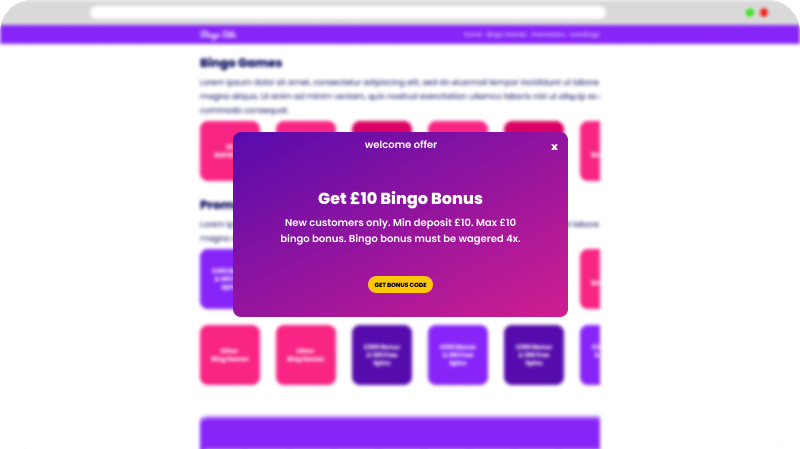 Bingo codes have been used for several years in pretty much the same way as retailers use voucher or discount codes to incentivise customers. It might also be that you are eligible for a certain deal but the bingo site wants to restrict the use of the deal, so they don't make it readily available to everybody.
Bingo codes can be extremely useful but as a bingo player, you are more interested in what they can bring you rather than what benefits they have to the brand's marketing strategy!
Let's take a look at some of the pros and cons of bingo codes for existing customers and new signups as well.
Pros
Access exclusive promotions
The most obvious benefit that bingo codes have is that they give you a chance to receive exclusive rewards that may not be available for everybody. If you receive a specific code that is meant just for you and a select few, then you know you're getting a deal that is pretty special. These may be extremely lucrative and that's why they don't want everyone to know about them.
Experience a range of bonus benefits
Bingo bonus codes don't just offer a few free games of bingo. Bonus codes can add value to different areas and increase your chances of playing for free in various ways. If you're lucky enough to land free spins as part of your bonus code offer, then you'll be able to play some of the latest slots without having to put your hand in your pocket.
You might also get a deposit bonus, often matched up to 100% in some cases, if this is the type of deal that your bingo site is offering. There might also be access to exclusive rooms within a bingo site where you can play games that are reserved for special customers only.
A chance to explore
When you create an account at a new bingo site, you aren't always 100% sure if you are going to stick around and play there for some time. By accessing bingo codes, you can land bonus credit that allows you time to explore for free. You can play some of the games that are on offer and take a look around to see what you think.
Cons
Bingo codes are often for new customers
Bingo codes for existing customers can be difficult to come by. It is more likely that a brand will contact you through the bonus section of your accounts to inform you of any promotions you are eligible to collect.
Time limits
Bingo codes will invariably expire within a fairly short space of time. Brands don't want these offers to remain open indefinitely, so you will have to move fast and take advantage as soon as you find one.
Points to consider when selecting a new bingo bonus code
In general, bingo codes are extremely easy to use and any promotional rewards are optional. There's no pressure to take on a bonus offer if you don't want it, but in our opinion, there's no reason to turn away perfectly good free bingo games!
If you are looking to get started with a bonus code, then take a look at our points to consider to help you get the most out of any promo.
Bonus types
There are several different types of bonuses that you can land as a new or existing customer. Some of the most popular are free spins, free bingo tickets and random bonus drops that simply add credit to your account.
It's up to you which type of bonus works best for you and your style of play, so it's always worth checking out any offers and if any take your fancy, go for it!
Terms and conditions
Bingo code terms and conditions are there to protect both the player and the bingo site. They help ensure that everybody knows where they stand before claiming the offer, but there are a couple of things to look out for. One of the main issues you may come across is wagering requirements.
Most bonuses you land will be subject to wagering requirements, which state that you must wager a certain amount before being able to withdraw the bonus or any winnings won from it. There may also be a maximum amount that you can cash out when you do complete any wagering requirements. Always read the T&Cs carefully to ensure that you fully understand what is expected of you. If you want to avoid wagering requirements entirely, then check out our no wagering bingo sites.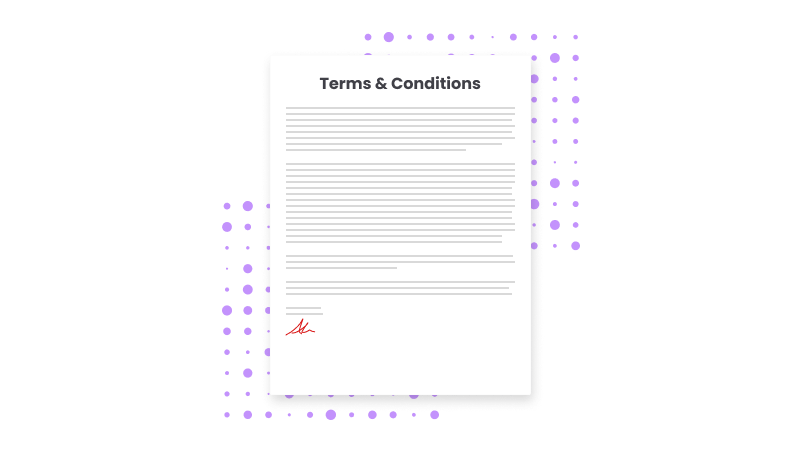 Expiry dates
It's possible that you will have to opt into a bonus offer within a certain time frame after creating a new account if you are accessing a welcome offer. The same goes for using your bonus credit after it has been activated.
If you don't use your bonus code within the specified time, then it may expire or you may no longer be eligible to receive the bonus.
Deposits
Some bonus offers will require you to make a deposit into your account to trigger a promo. You may need to make a minimum deposit to become eligible. For new customers, these are often called first deposit bonuses or welcome bonuses, and for existing customers, you may well see them referred to as reload bonuses or re-deposit bonuses.
Before making any additional deposits, check that the value a bingo code brings is worth your initial financial input. Don't pay any more than you were planning to and always stick to your own budget.
Payment restrictions
If your bingo bonus code requires a deposit then it's always worth understanding if there are any payment restrictions in place that may make your deposit ineligible for claiming a promo.
It is fairly common that e-wallets such as PayPal, Skrill and Neteller are excluded from the list of eligible deposit methods. Generally, it's safer sticking to debit card deposits when claiming any kind of bonus, otherwise your options will be limited.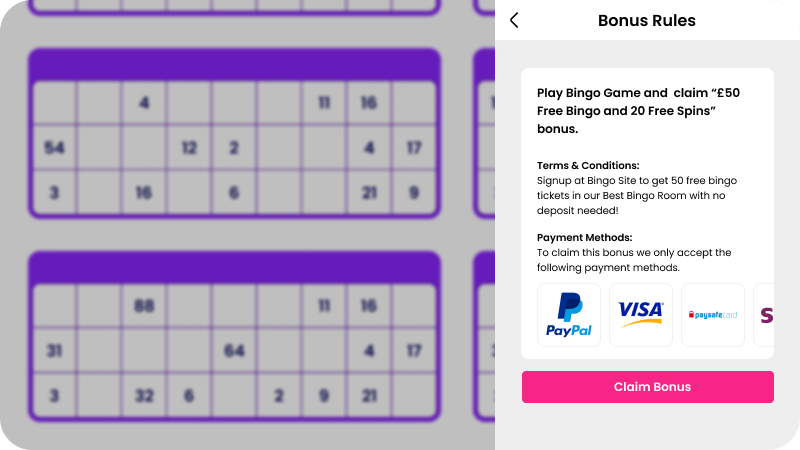 How to use a bonus code
The best bingo codes are always super easy to use and you shouldn't have any problems getting hold of your rewards. To simplify the process, we have come up with a few steps for you to follow and get started straight away.
Step 1: Find the bonus code that's right for you
The first thing you need to decide is if you are looking for bingo bonus codes as a new customer, or as an existing customer. This will make a difference as some promotions require you already have an account at that particular brand, although most are only available for new customers.
The best thing to do is take a look at the sites offering bingo codes that you see displayed here on this page. We will show you all of the essential info so you can select from free spins, bingo tickets, bonus credit or anything else that you might like to try.
Step 2: Click through Best Bingo Websites to activate
Once you've found your preferred bingo bonus, it's time to claim it! Simply click the 'Get bonus' button to activate the offer on the respective bingo site. Make sure you follow any instructions right away before it expires, which might include creating a new account and verifying your ID, and might also include entering the bonus code on the registration form.
Remember that you're free to try as many bonuses as you want, and you aren't restricted to signing up at only one bingo site.
Step 3: Activate the bonus code
Some bingo codes will need to be entered manually when you click through to the bingo site after claiming the offer. Often, codes will be applied automatically, so you won't need to do anything other than create an account and follow the steps to release the bonus. But, if you see a 'promo code' box anywhere on the signup process, or when you're about to deposit, then it's always safer to enter the code anyway.
If you've chosen a bingo site that doesn't require you to enter a code, then you will simply need to follow the instructions for claiming the promotion. It may be that the offer is already waiting for you in your account area, but you'll still need to accept the bonus and its T&Cs. Bonuses don't usually happen without you agreeing to take part first.
Step 4: Use your bingo bonus code rewards
Once you have activated your bingo code, it's time to head off and enjoy the bonus credit or free games. If you've been offered free spins on a slot, for example, then you can head for the slots section and play the games that are valid for your promotion.
Free bingo games and other credit may be restricted to certain rooms, so double-check before you play to make sure you are in the right place to redeem any freebies.