Benefits of playing at new bingo sites
Brand new online bingo sites offer a world of possibilities. They may not have years of trading under their belts but they have benefited from learning what works and what doesn't work in the bingo industry.
They are able to target their products to players like us, interested in experiencing all the benefits that a new bingo site can bring. Here are a few of the advantages that you'll find at the best new bingo sites.
Welcome bonuses
Gaining new players is at the top of the list of priorities for all bingo sites, not just new ones. Over the years, it's become obvious that one of the best ways they can entice players over to their brand is to offer an unbeatable deal to get you to sign up and play. This is partly why we've seen a large influx of new bingo sites with no wagering bonuses lately.
Welcome bonuses can mean a great deal of additional credit entering your account and sometimes you don't need to spend any of your own hard-earned cash to get hold of it. Some no deposit bingo sites exist meaning you just need to sign up and create an account to access some free games with real prizes. However, prizes will generally be quite modest and any winnings may come with conditions that prevent players profiting too greatly from the 'free bonuses'.
In general, making a deposit into a new account will see much bigger benefits with some deposit bonuses reaching 100% and higher of your initial deposit amount. All of this can lead to many free bingo tickets and the potential to walk away with some winnings in the process.
Accessibility
Old habits die hard, and for well-established bingo sites it can mean a lack of modern technology. The best new bingo sites will have relationships with the best platform providers to ensure that there is a fantastic range of games that can satisfy all new players.
Not only this, you will often find that the best new bingo sites in the UK have instant access to games on all manner of devices. Mobile bingo play is pretty much a standard with these modern companies.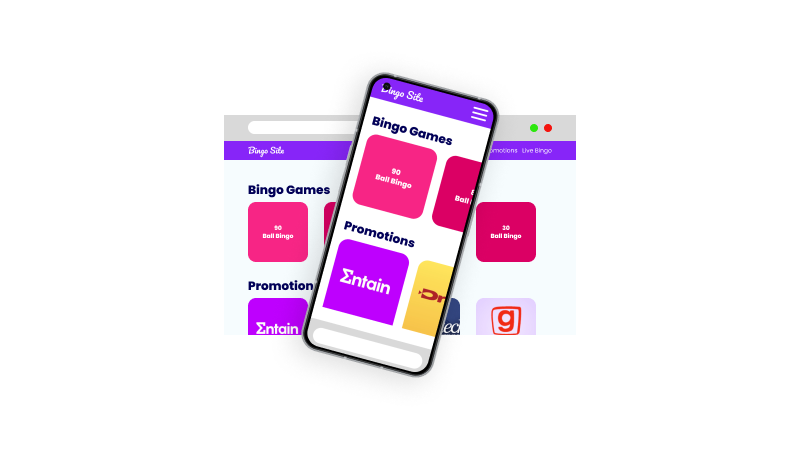 Offer more than bingo
It might sound strange, but it isn't all about the bingo. While this fantastic game may be the reason why you joined in the first place, there are many other forms of entertainment taking place at new bingo sites to keep you busy while you're there.
Slots and other casino games offer fantastic opportunities to enjoy different types of excitement. Bingo sites know most players like to mix it up, and so they often allow bingo bonuses to be used on other games too. If you have a passion for more games than just bingo, or would like to explore other exciting games that can potentially lead to winnings, then make sure you choose a bingo site that has more games on offer such as slots, lotto, live casino, and maybe even sports!
Active Communities
The social side of bingo cannot be underestimated. It is one of the main reasons why many players enjoy this fabulous pastime day in, day out. You can chat with other users who are online at the same time, and you never know, you might even make a few friends in the process.
The chats also have another added benefit in that mini-games are regularly put on by the chat moderators. They might offer free tickets and other prizes for certain achievements or correct answers to quizzes, and it's even possible to win prizes when another player gets the full house!
Wider range of payment methods
Available payment methods are also worth mentioning. While new bingo sites are generally more up-to-date when it comes to modern payment options such as Apple Pay and Google Pay, it's wrong to assume that your chosen new bingo site would automatically support your preferred method.
Debit cards, e-wallets, PayPal and prepaid cards often come as standard but do check our review for a full list of options. You can also check our list of bingo payment methods to easily find a bingo site that supports your preferred payment processor.

Tips for choosing a new bingo site
All of the bingo sites that feature on our website have been carefully vetted to ensure your safety and security when playing online bingo. But before signing up for an account, there are other important points to consider to ensure you choose correctly and will get the most out of your new bingo site for months and years to come.
Bingo Games
Bingo games are what brought you on this quest in the first place, so it makes sense that you should carefully consider the types of games that are available at your new bingo site.
Everybody has their own style of play and it will usually come down to how fast you like your games and how big you want the prizes to be. Fast games such as 30-ball bingo can be over in a couple of minutes. In general, only one person will win a prize and it comes by covering every single number on your bingo card. What you lack in big prizes you make up for in the ability to move on to the next game very quickly.
The longest game of bingo is the traditional 90-ball version. In 90-ball bingo, you will have to mark off 15 numbers to receive the top prize for that game. Bear in mind that this can take some time if it goes all the way.
An added benefit of this type of game is that other prizes are available. The player who completes one row first will land a small prize and the next person to get two rows will also win a prize. These are known as the 1-line and 2-line prizes.
In addition to 30-ball bingo and 90-ball bingo, there are several other types of bingo games that offer different numbers of balls and various patterns that you must complete on your bingo card.
You might also want to look for a new bingo site with networked games such as the ones found on the Dragonfish network. Alternatively, you might be looking for progressive jackpots and other big prizes. Whatever your requirements, a little research will go a long way towards ensuring maximum enjoyment with any brand. All of these details will be found in our thorough and honest bingo site reviews.
Community
If you are a social whirlwind and you love nothing more than to chat away with the other roomies whilst playing bingo, then the size of the community at a new bingo site will probably matter to you. Some of the best bingo sites have hundreds of players online throughout the day, enjoying a little friendly banter.
A bigger community also leads to bigger prizes as there are more players contributing to the prize pool. This is why networked rooms often have larger prizes on offer. However, overcrowding can be an issue, so keep in mind that the more players there are the less chance you have of winning.
On the other hand, you may prefer to keep yourself to yourself and don't want the added social pressure. There are bingo sites that don't focus so heavily on a large community such as MrQ. Note also that most bingo sites have their own exclusive bingo rooms that aren't shared with the rest of the network, and these are usually a little quieter.
Promotions
New bingo site bonuses can mean great things for your bonus balance. Anyone looking to land a little extra credit in their account would do well to pay attention to the welcome offers and other promos that run throughout the week. One of the best places for this is Buzz Bingo and its monthly free spinner promotion where players get to spin a wheel for free in the hope of winning a prize including free spins and bingo bonuses.
Some bingo networks run network-wide promotions such as Pragmatic Play's Drops & Wins slots promotion. If that takes your fancy, then you might want to consider a Pragmatic Play bingo site.
Bet365 Bingo and PlayOJO Bingo are known for some incredible promotions that offer prizes including cars, holidays, gadgets and tons of cash.
Many bingo sites also offer reload bonuses on specific days of the week, free bingo tickets, access to exclusive rooms and other rewards. Those who play a lot of bingo might also be invited to VIP clubs where additional benefits are on offer.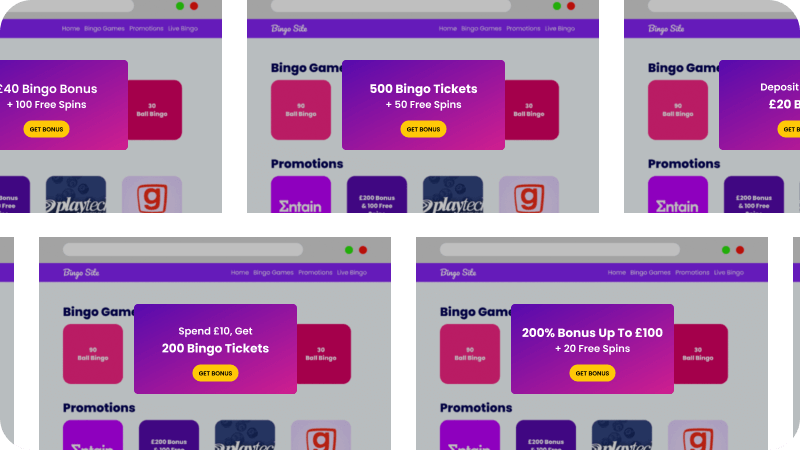 Banking
Not every payment option is available at all of the newest sites. While they may have a fantastic range that covers most bases, it's possible that your preferred choice might be missed off the list.
You should always check out these details to guarantee that you'll be able to move your money with ease. It's very common to see methods such as debit cards and bank transfers. However, PayPal, Paysafecard and other methods may appear on some sites but not others. Our extensive bingo site reviews will state everything you'll need to know about the payment methods supported by your chosen bingo site.
Different types of new bingo sites
Not all of the newest bingo sites fit the same criteria. And it isn't guaranteed that what works for one person will definitely work for you. Let's take a look at a few of the different types of sites that you will come across.
Networked bingo sites
Some bingo sites are part of a larger bingo network. This can have various benefits and drawbacks at the same time. Networks like Playtech Virtue Fusion offer bustling communities and network-wide prize pools due to rooms being shared with players from multiple different bingo sites.
While you won't immediately know that you are playing on a network with players from other bingo sites, you will effectively be taking part in some of the same games.
One of the major benefits this has is that more players mean bigger prize pools, and some of the biggest jackpots are found at network sites. Furthermore, with lots of players comes a greater chance to enjoy a bigger social community.
However, more players can also mean there's less chance of winning the full house, so finding the right balance could be important.
New proprietary bingo sites
Some bingo sites, like MrQ, have decided to run their own proprietary software. They are independent of other bingo sites and produce their own games, themed rooms, prizes and promotions.
As you can imagine, there may be fewer players in the bingo rooms at any one time. But the advantages of this are the direct opposite of a networked site. You'll have less competition which means more chance of winning, even if the prize pool isn't as large.
Relaunched bingo sites
Some bingo sites, including Heart Bingo, have been revitalised over the last few years. Investors and new management teams have given them a new lease of life and some new branding.
In order to work their way back into the hearts of bingo fans across the country, they are working extra hard to earn your support. This could mean special bonuses, innovative game setups and large investments in their website software.
Slot sites adding bingo
Some slot sites such as PlayOJO have gained a fantastic reputation in the slot community and have branched out into other areas including bingo.
Bingo and slots can often go hand in hand and provide additional entertainment for players. While waiting for the next game of bingo to start, some players like to have a few spins on one of the latest slots or other available side-games. You can also find scratch cards, lotteries, Slingo and even live casino games on offer.
What we look for when reviewing new bingo sites
Nobody gets a seat at the Best Bingo Websites table before passing some initial quality control checks. We won't spend our time reviewing bingo sites that aren't up to scratch or we feel don't offer good value to players.
Only when we are completely satisfied that a bingo site will offer a great experience do we begin the thorough review process with a view to featuring it on our website. Here is a closer look at the six-point review system we use to ensure a new bingo site is worthy of our recommendation.
Design & Usability
A new online bingo site needs to look good and be simple to use. There are various navigational elements that a bingo site uses to get you around their website and you need to be able to find what you're looking for quickly and easily.
Finding what you need shouldn't take long and all of the info that you are after should be there at your fingertips. That includes info on when the next bingo game is about to start, as well as help on how to play a particular bingo variant.
Another aspect that we take into consideration is how the bingo site behaves on various devices. Not everyone wants to play bingo sat at their computer. Many players like to take the action with them on the move and enjoy a game of bingo on the bus or wherever else they may be.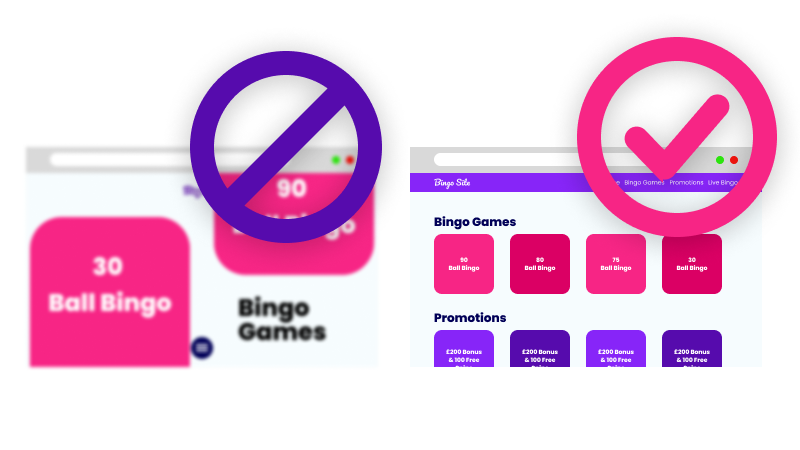 Games
Games and bingo rooms are the main reason we jump online to play bingo. That's why a large portion of our review is spent playing bingo at the bingo site in question. And we aren't going to lie, it's our favourite part of the job!
We take into account the software and network that powers the bingo site to ensure that there are exciting games, great prizes and a decent community to keep you entertained. We consider networked games as well as exclusive bingo rooms that players love.
We will also check out what other games are available at the new bingo site. There's nothing wrong with having an amazing choice of slots and other side games to have a flutter on while waiting for the next bingo game to start.
Promotions
New bingo site promotions and offers can be an extremely important factor for many players, and we always look to see what's on offer. We especially pay close attention to the entry requirements, prizes on offer and the terms and conditions, to ensure the promotions aren't all talk and no action!
Any info that you need regarding bonuses, free credit, exclusive access to special rooms and anything else you can imagine will make its way into our reviews of the newest online bingo sites.
Banking
Getting money in and out of a bingo account is not something to take for granted. We know that there are many different payment methods available and that each player has their own requirements.
We will break down the key info to show you what options are available, deposit and withdrawal speeds, and if there are any fees or minimum and maximum withdrawal and deposit limits. We will also look into any small print that doesn't allow certain payment methods to qualify for welcome bonuses. It is often the case that some e-wallets, for example, are not eligible for certain deposit offers.
Support
Finally, we want to ensure that you continue to enjoy a long and happy relationship with your chosen bingo brand. Therefore, we make contact with the brand through the various methods available to make sure that you can always get hold of them when you need them.
The best new bingo sites have made it onto our list of recommended brands because they provide a fantastic product. But, issues can and do occur, no matter how small, and the bingo site customer support should be on hand to help. Getting in touch should be quick and easy and all reputable bingo sites should be committed to putting players' needs first.