What are wagering requirements?
Wagering requirements are a condition placed on bonuses that prevent the bonus, or winnings gained from it, being withdrawn until a certain amount has been wagered.
The condition is in place to protect bingo sites from players abusing the bonus with the sole intention of profiting from it, rather than using it legitimately to try out the bingo site's games.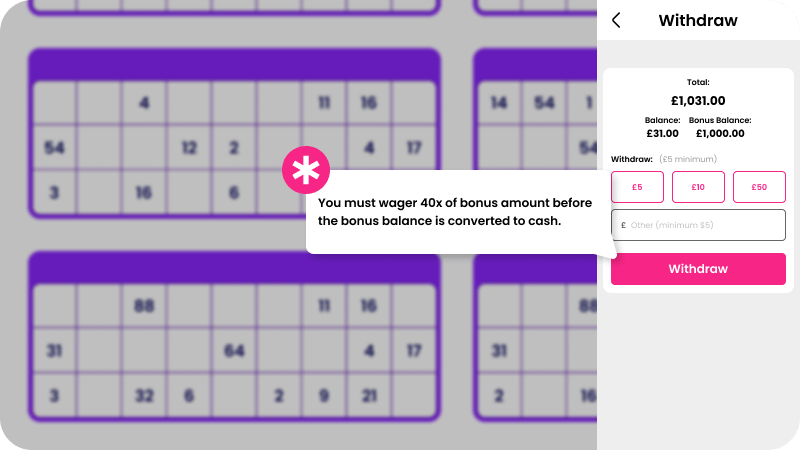 They've come under great scrutiny in recent years due to genuine players not being aware of the condition and only learning about it when they go to cash out their winnings.
Naturally, they've led to a great deal of frustration, confusion, and ultimately, complaints, which led to the Gambling Commission and the Competitions and Markets Authority getting involved.
During an investigation into unfair practices, the CMA became concerned that players were losing out due to "restrictions on their right to withdraw winnings made from gameplay with their deposit unless they meet extensive wagering requirements".
As a result, in June 2017, enforcement action was taken to ensure that all operators across the industry were acting responsibly and transparently about any such conditions when advertising a bonus or promotion, so as not to mislead players.
The action resulted in the exposure of significant terms and conditions that were previously hidden away in small print, and some hefty penalties for those that didn't comply. Consequently, it led to many operators lowering their wagering requirements to levels that players would deem more reasonable and fair. Some operators even went a step further and scrapped wagering requirements completely.
Nevertheless, many operators still apply wagering requirements to their offers and bonuses in order to protect themselves from abuse and remain profitable. And in most cases, they can't be blamed for it, and the truth is that wagering requirements often can't be avoided.
With that in mind, all players will inevitably encounter wagering requirements at some point and so it's important for you to understand how they work and what they mean for your bonus and your winnings.
How to calculate wagering requirements
Calculating wagering requirements isn't all that complicated once you've got your head around it. And it's a good skill to have under your belt for when you do inevitably come across them. Here's how to calculate wagering requirements…
Imagine you received a £10 bingo bonus which has 4x wagering requirements attached to it. This means that you would have to wager a total of 4 times the amount of the bonus before being able to withdraw anything won off the bonus. £10 x 4 = £40. So, you would have to buy bingo tickets or place bets on slots and side games to a total of £40 before the wagering requirements would be fulfilled and you could withdraw any winnings.
Keep in mind that wagering a total of £40 on slots or bingo tickets doesn't necessarily mean spending the same amount as your balance will move up and down as you play. For example, you might play 100 spins on a slot at 10p each which would equal a total of £10, but it's possible that during those spins you receive back £2, £5, or even more in wins. As a result, the total spent can be far less than the total wagered.
The larger the winnings of the bonus, the more likely it is that you'll end up with something left to withdraw after completing the wagering requirements.
Conversely, if the winnings are small, then the more the wagering requirements will eat into them and the less you'll end up with, if anything at all. A few lucky wins along the way to fulfilling the wagering requirements can, of course, be very helpful!
One last thing to be aware of is that wagering requirements on free spins work slightly differently. Because there's no real monetary bonus value, the wagering requirements apply to the free spins winnings. So, if you received 20 free spins and won £10, then you would have to wager the £10 winnings over until the wagering requirements were fulfilled.
What are reasonable wagering requirements?
Other than bonuses without wagering requirements, wagering requirements can't usually be avoided. But, they're not always that bad.
For bingo bonuses, a wagering requirement of 4x the bonus amount is industry standard. This is a fair compromise of receiving a generous bonus and not exposing the bingo site up to too much risk.
A wagering requirement of 4x can easily be fulfilled when the winnings from the bonus are relatively sizeable. However, some operators out there have much higher wagering requirements of 10x, 20x and even more, which can make it nearly impossible to end up with any winnings once they've been fulfilled.
As for slots and free spins bonuses, a wagering requirement of 35x is the industry standard. Slots bonuses tend to have much higher wagering requirements because the house edge is much lower than in bingo. Therefore, if you received free spins as part of a bingo welcome offer, and the free spins have a 20x wagering requirement, it's actually quite low and very reasonable.
How to beat wagering requirements
Strictly speaking, there's no way of actually 'beating' wagering requirements, but you can certainly do a few things to increase your chances of fulfilling them and ending up with some winnings left over to withdraw.
The only way of avoiding wagering requirements entirely is to choose a bonus without wagering requirements. But, even no wagering bonuses can come with extras that do have wagering requirements, so you still can't always avoid them entirely!
The first thing to look out for when trying to fulfil wagering requirements is conditions on the game contributions. Some games you play may only contribute 50%, 10% or even 0% towards the total amount wagered for the purposes of releasing bonus winnings. Slots usually count 100%, as do bingo games, so the safest bet is to stick to those games.
Another way of potentially increasing your chances of fulfilling wagering requirements while retaining as much of your winnings as you can is to choose your moment carefully…
Playing at a peak time in a crowded room will result in far more competition, so try and find a room with fewer players, even if there's only 5 or 10. Fewer competitors means more chance of winning, while at the same time working your way towards completing the wagering requirements.
No wagering bingo bonus T&Cs to watch out for
Bingo bonuses with no wagering requirements are less restrictive than others but that doesn't mean they're completely free of terms and conditions. Bingo sites have to put rules in place to protect themselves from bonus abuse and fraud.
The most significant T&Cs will be displayed next to an offer, but the terminology can be difficult to understand and some rules can easily be missed if you don't know what to look out for. It's always worth reading through the small print to find out exactly how to land your no wagering bingo bonus and how you can use the bonus once you have it in your account.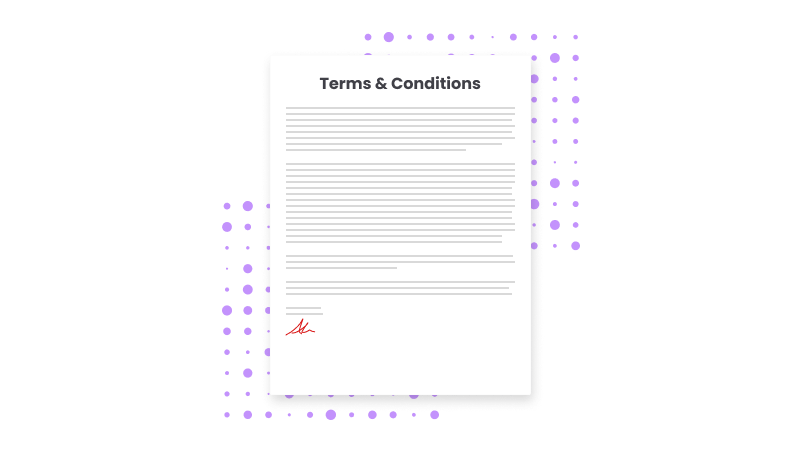 Maximum win
One of the first things to watch out for is the maximum win cap. Regardless of how much bonus credit you have, you might find that you can only win and withdraw a fixed amount.
Most bonuses don't have maximum win caps, and if they do then they can be as high as £10,000. But, some are capped at a measly £20, and some even as low as £2.
Always check the T&Cs of your chosen no wagering bingo bonus to see what maximum win restrictions are put in place.
Minimum deposit
A minimum deposit is a usual requirement in order to release a bonus. The vast majority of bingo sites have them in place as otherwise they would be giving away bonuses for free.
The most common minimum deposit requirement is £10, but some ask for £20 and other bingo sites only require a £5 deposit.
Deposit methods
Some deposit methods are excluded from welcome offers, and no wagering bonuses are no exception. In general, regular banking methods such as debit cards are fine but e-wallets such as Skrill, Neteller and PayPal are often ineligible for the promotion.
If you prefer playing with anything other than debit cards then it's definitely worth checking the T&Cs of the offer before claiming it, so you don't end up having your bonus refused.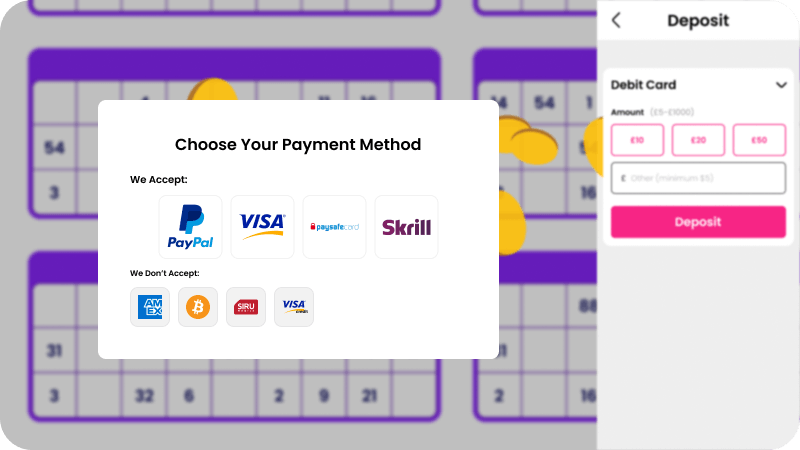 Expiry dates
Be aware that the best no wagering bingo offers won't stick around forever. They usually have a fixed promotional period which means you have to get in and claim your bonus before the offer expires. In addition, there will usually be an expiry time on claiming a deal after you've signed up.
This may be set at 30 days, for example. And as if that wasn't enough, you will also have a limited amount of time in which to use your bonus and complete all wagering requirements—if these are part of the deal.
Game restrictions
Keep a lookout for any game restrictions when it comes to fulfilling wagering requirements. You might find that only one bingo room is available while taking part in a promotion and if you want to play other games, then you will have to use your own cash balance.
This isn't always the case and sometimes you will find a brand that simply lets you use your bonus across the board.
New players only
If you've already signed up with a bingo site, then you won't be able to claim the welcome offer again. And that doesn't mean you can just go ahead and create a new account with them either - they're pretty good at detecting duplicate accounts!
They often restrict a welcome bonus to one person per household too, so if your friend or partner also plays bingo, you both won't be able to claim a welcome offer at the same bingo site.
Advantages and disadvantages of no wagering bingo
It is fair to say that we are keen advocates of no wagering bingo bonuses. They have a lot going for them and they can present players with a fantastic chance to keep hold of some winnings while using their bonus.
However, there are downsides as well as upsides to no wagering bonuses, so to help you decide whether they're right for you or not, here's a list of pros and cons…
Advantages
No complicated wagering requirements
Naturally, no wagering bingo bonuses don't have any complicated wagering requirements. It is their main benefit and it means you won't have to spend forever wagering over and over in order to release some actual cash.
Complicated wagering requirements can be tiresome and often lead to disappointment, especially when you land a decent win and go to cash out.
Keep your winnings
If you get lucky using a no wagering bingo bonus, then the winnings are yours to keep. With other bonus types that carry wagering requirements, you need to continue playing until the requirements have been met.
As a result, you may end up losing your bonus or winnings while trying to satisfy the wagering requirements.
No game contributions to worry about
Another reason to opt for bingo with no wagering is that you don't have to think carefully about which games you play. You may well have a designated game to spend your credit on, but you won't need to calculate different percentage contributions towards wagering requirements.
This makes a bonus much easier to use and the whole process is far more enjoyable at the same time.
Disadvantages
Maximum win caps
Some no wagering bingo bonuses will have a maximum win cap in place in order to protect the bingo site from big wins. Bonuses without wagering requirements pose a risk to bingo sites, so they will sometimes try to minimise that risk by reducing their exposure.
Maximum win caps can be anything as high as £10,000 or £500, but can also be as low as £20 or even £1.
Smaller bonuses
With no wagering bingo sites and bonuses, you'll often find that the overall bonus amount being offered is smaller than those with wagering requirements, and even those with low wagering requirements.
For example, a typical bonus with wagering requirements could include a bonus of £100 or even £200 plus 100 free spins on a slot game. But, it's highly unlikely that this offer would exist as a no wagering offer, as it would present far too much risk and be far too costly for the bingo site.
Game restrictions
No wagering bingo bonuses are often restricted to one specific bingo room or online slot. The downside with this part of the deal is that you won't get to try out other bingo rooms or slots that are available at that bingo site.
It shouldn't be a huge issue as you will have your own deposit to use as well. So once you have played with your bonus credit, you can then head off and enjoy whatever games you like.