Software vs Networks
To compare bingo sites by software, it helps to know exactly what the software does and how it differs from a bingo network.
For newcomers, it can be tricky to distinguish between the two as some networks share the same software such as Real Bingo Network and Globalcom sharing the same Dragonfish software, so the two terms get mixed up at times. And just to make things a little more complicated, some bingo networks also run their own software by the same name.
Bingo networks can be thought of as a pool of players shared across multiple bingo sites. If you play on a Pragmatic Play bingo site, for example, then players from other Pragmatic Play bingo sites will also be joining in the same games. This offers various advantages and benefits.
The main reason to use a bingo network is to increase the level of participation and the size of the prizes as well. After all, the more people that are pulling in the same direction, the better it can be for everybody.
Bingo software is the bingo platform itself and powers the main bingo lobby, bingo games, side games, chat features, even sometimes user accounts and payments.
As not all bingo software will have the same variety of games, if you are looking for a specific type of bingo, such as 30-ball bingo, then it might be best to choose a bingo site by software first.
As we mentioned before, some software providers are also responsible for producing the best-known networks as well. Playtech's Virtue Fusion is its own bingo software showcasing branded bingo games such as Age of the Gods Bingo and Deal or No Deal Bingo, but Virtue Fusion also has a bingo network. It's possible that a bingo site uses the Virtue Fusion software but not the network, although in reality this very rarely happens.
Therefore, choosing a bingo site by its software will usually determine which network it will be operating on. The main exception is with Dragonfish bingo sites where although they all use Dragonfish software, they could be sat on either one of two Dragonfish networks - Real Bingo Network or Globalcom.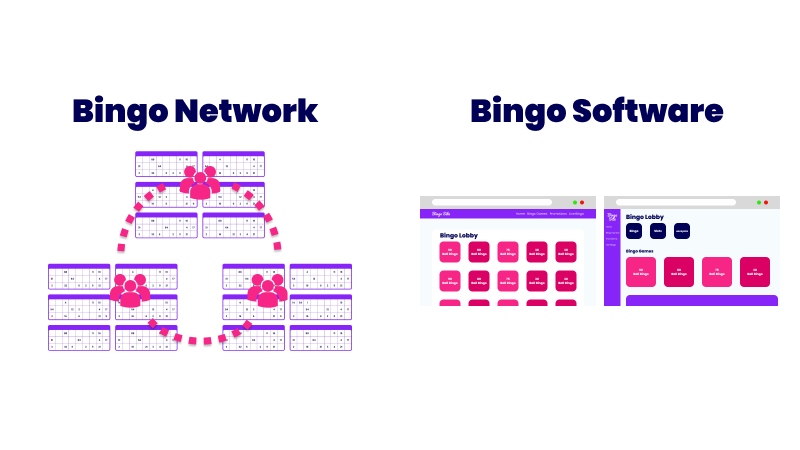 Pros and cons of bingo networks
Even the best bingo network sites aren't without their faults. We have to concede that there are many reasons why players should choose a bingo network over a standalone product, but there are also things to consider to the contrary.
Pros
Bingo networks create a more complete bingo environment and an all-inclusive experience for players. By connecting several different brands together, players are able to benefit from a number of features that aren't often possible with independent bingo sites…
Larger community
Naturally, the more customers that are joined together through the best bingo networks, the more sociable a brand will be. Having thousands of like-minded fans all enjoying the same action can have fantastic consequences in the chat rooms and also help to boost your balance a little as well.
Chatroom games are far more prevalent at a brand that has a huge following. If there is a large customer base, then bingo game providers will front a little cash in the form of mini-games where you can win further prizes.
Networked promotions
One key element that attracts players towards a bingo site is the range of promotions that are available. Networked bingo sites run frequent promotions that are shared across the whole network.
This usually results in bigger and better prizes that can include once-in-a-lifetime holidays, cash, and even cars.
Promotions can take the form of prize draws, competitions and tournaments. Some are free to enter, and others require a minimum deposit or spend on a certain game or selection of games.
Players can also benefit from loyalty rewards for simply playing their favourite bingo games in the form of loyalty points and prizes. These can include weekly spinners, free bingo games and more.
Bigger prizes
Independent bingo sites are rarely able to offer huge prizes like those that culminate across a bingo network. This is one of the main reasons that players choose bingo sites on a network rather than anything else.
Bingo Linx is one popular example of this in action. Players at various sites on the same network can purchase tickets to play in the same rooms where a common jackpot prize is shared. You could see some extraordinary sums of cash available thanks to combined contributions of the network community.
Multiple offers & bonuses
Welcome offers are a fantastic incentive for new players to sign up and create an account at a new bingo site. While networked sites will often have the same offers and bonuses available across the board, they can be so good that you want to get your hands on them more than once!
It's perfectly fine to have an account at more than one bingo site, although opening too many might get you banned for suspicious behaviour, so don't get too excessive!
Cons
There are a few downsides to playing at networked bingo sites that you should be aware of. Let's take a look at a few considerations that are worth mentioning.
More players means more competition!
The huge potential prizes that can amass across bingo networks are an obvious pull for many players. However, more players can sometimes lead to overcrowded rooms and so less chance of you hitting the full house.
Remember, every player has exactly the same chance of winning as everyone else, so it's pot luck who wins. The fewer players in a room, the greater your chances of winning - but the lower the prize pools will be too.
Familiar promotions
Sharing the same promotions across networked bingo sites can mean that many of the bingo sites start feeling very samey and there's not much that separates one from the other.
However, most players will stick to one bingo site, so it can pay to find one that has plenty of regular promotions going on to keep you entertained and engaged, regardless of what's happening at other sites!
Same look & feel
As networked bingo sites usually all use the same bingo software, the bingo lobby and games can all look very similar too. This can actually be a good thing, because familiarity means we already know our way around and which games to play.
However, it can take away from the excitement of joining a new bingo site in the hope of experiencing something new.
Bingo sites running on proprietary software
tombola bingo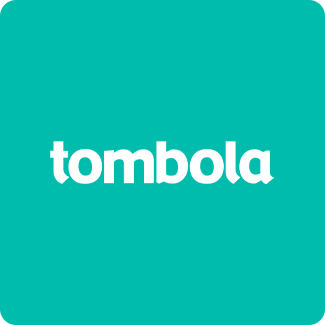 Considering tombola is an independent bingo site using its own proprietary software and pool of players, it's done pretty well - tombola is officially Britain's biggest bingo site! Who says you need a 3rd party software provider or network?!
It keeps things slightly more modest than most and has a heavy emphasis on responsible gaming. You can play here for as little as 1p per ticket.
Signing up with tombola gives you access to regular 90-ball, 80-ball and 70-ball bingo in addition to the other variants that it provides. However, remaining completely independent does have some minor drawbacks and one of those is that you won't find regular slots or other themed bingo games that are readily available with the 3rd party software providers.
It does, however, have its own unique and custom-built side games that are fun to play and appeal to the more casual player rather than the hard-core slot fanatic.
MrQ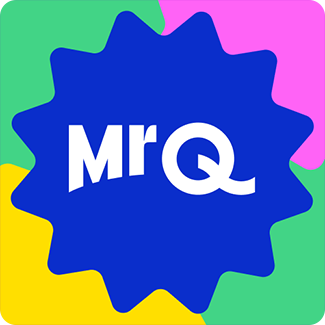 MrQ had a slow start to life as a bingo site, but back in 2018 it decided to start from scratch with a whole new strategy. The team behind MrQ went at it alone and created their own software, which was a massively bold move but seems to be paying off.
While the game selection is smaller than you'll find at other sites, you can still enjoy 75-ball and 90-ball bingo in 4 rooms known as Full Monty, Pinch a Penny, Cheap as Chips and On the House.
One of the great things we love about the MrQ brand is that it's independent and free from restrictions that some sites suffer from. For example, they don't have any wagering requirements and there is a progressive jackpot constantly waiting to drop across all games.
Furthermore, its growing collection of online slots is getting better and better week by week.
Note that MrQ's bingo games are only available between 12pm and 12am, so the morning players among you might want to keep that in mind!
Other Bingo Networks
15 Network/Jumpman Gaming
While you can access some decent bingo games here such as 80-ball, 90-ball and 75-ball, bingo fans might find the options a little too similar across these brands. Both networks are effectively the same product and the small selection of standalone games might not be diverse enough for some.
15 Network and Jumpman Gaming both use Pragmatic Play software but 15 Network is targeted as a bingo site with slots, whilst Jumpman Gaming is branded as a slot site with bingo games. The networks are essentially the same but with different branding.
Players looking for a more complete experience with a wider range of bingo titles and promotions might want to try bet365 Bingo or PlayOJO Bingo, which use the same Pragmatic Play software but with more features and stronger networks behind them.
Gamesys
The Gamesys network only has a couple of brands under its belt - Jackpotjoy and Double Bubble Bingo - but again, the problem you might find here is the similarity between everything on offer. There's not much setting the bingo sites apart with carbon copy lobby layouts and various parts of each site feeling a little too familiar.
The Gamesys network does offer a huge selection of promotions for bingo, online slots and even table games which is easily the biggest selling point of this network. It also has some popular network games that have entertained many fans over the years. However, if you are wanting a bingo experience full of incredible promotions, thriving communities and a wide variety of games, we recommend Pragmatic Play bingo sites or Playtech bingo sites instead.
United Bingo
Operating on the Dragonfish software, the United Bingo network is responsible for providing networked games and jackpot prizes that are available throughout various bingo sites. The company is part of the Rank Group known for the massive bingo brand Mecca Bingo. However, it's worth pointing out that Mecca Bingo does not use the United Bingo network.
Bingo sites on this network don't have much control over individual elements for their players, and we feel that customers can get a more enhanced experience and better value with other bingo networks such as Pragmatic Play, or Entain which offer bigger communities and more bingo games.
Differences between bingo software providers
Finding the best place to play is a little easier when you start comparing bingo sites by software as you can narrow down your options by focusing on the things you like most. But how do you decide which bingo software is right for you? What's more, choosing a bingo site by its software generally also dictates what network you will ultimately end up playing on, so the two go hand in hand and should be considered together.
Popularity
If you are looking for a bustling chat room with plenty of side games and loads of top prizes, then you should check out how many bingo sites use a particular type of software. Popular software will have loads of benefits, which can make your experience more sociable and potentially rewarding in a financial sense.
On the other hand, more players competing against each other means less of a chance of bagging the full house and potentially other prizes too. For that reason, many players prefer 'quieter' bingo sites where the rooms are less crowded.
Game variety
Some bingo enthusiasts are simply looking for one or two traditional types of games including 90-ball or 75-ball, for example. You can compare bingo sites by software and find that almost every site will offer most of what you want if this is the case.
For a more specific selection including variants on the traditional game plus loads of jackpot opportunities and themed alternatives, you should check out the entire game selection to make sure your specific requirements can be met.
Chat games & features
Bingo sites with a strong community don't just offer a great opportunity to chat with your fellow roomies. Chat rooms and community features can include chat games, quizzes and prizes that can potentially add to your balance too.
As well as fun trivia and quizzes, chat moderators may announce that players next to a winner in the chat room will also win a prize. Other alternatives include usernames that start with the same letter and prizes for anyone who's birthday is called out.
Chat moderators can make or break the bingo experience, and are often provided by the software supplier. Some players may prefer Dragonfish's CMs, whereas others will prefer Virtue Fusion's.
Payment methods
Many players will overlook the available payment methods at a bingo site, which can be a mistake especially if you prefer paying by e-wallet. Most players use debit cards which are always supported, but not all bingo sites will accept PayPal, Skrill or paysafecard.
Sites such as PlayOJO and Paddy Power Bingo support a much larger range of payments and might be a safer bet for you if your requirements are a little more niche.
Most software providers support debit cards and PayPal, but if you prefer using any other method then check the full review on our website before signing up to ensure your favourite payment option is supported.
Mobile optimised/compatibility
If you like to play bingo on the go, then mobile compatibility needs to be a key consideration. Most software will work across a range of different devices, but it might be worth trying a bingo site out on your mobile before depositing, in case it doesn't support your device.
There is nothing wrong with trying out bingo sites that use different types of software behind the scenes to get a feel for how slick and convenient the mobile offering is. Signing up for an account at any one of the bingo sites you see featured on this page only takes a few minutes and you'll be able to take them all for a test drive.