Choosing the best bingo bonus
There are a wide range of bingo bonuses up for grabs at Best Bingo Websites offering you the chance to grab loads of free bingo games, free spins on slots, bingo tickets and more.
However, with so many bonuses to choose from, and so many looking quite similar, it's hard to know which one to go for.
The best advice we can give when searching for a new bingo site to play at is to choose one based on what it offers as an overall package - which, as well as the welcome bonus, includes games, bingo rooms, promotions, community, and even software or payment methods. The reason for that is if a bingo site doesn't fulfil our needs then we'll just end up disappointed and like we've wasted our time.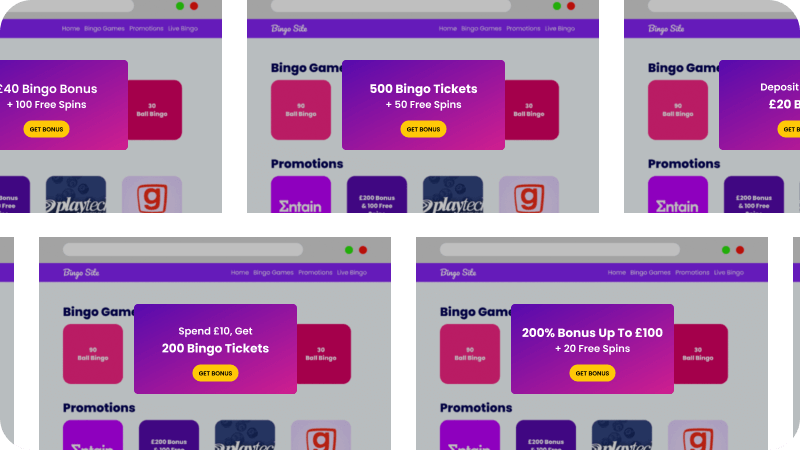 But, if you're here because you can't resist those big beautiful bonuses, then at least take heed of the following advice and things to look out for…
When choosing a new bonus, most bingo players only see the free tickets and free spins side of things - they don't think to look at the terms and conditions that come with the offer.
But terms and conditions are important, as they can make the difference between a pleasurable experience (and potentially some winnings) and walking away with nothing but disappointment and frustration.
This is where we can help! We've broken down the most common terms and conditions to look out for when choosing a bingo bonus, so you know what to expect and can avoid any nasty surprises.
Wagering requirements
Wagering requirements help protect bingo sites from players abusing the 'free' bonus. If they were to hand out loads of free bonuses to every new customer without a chance of winning it back, then they wouldn't be in business very long! For this reason, bonuses without wagering requirements tend to be of much lower value.
A wagering requirement is a condition that states that any winnings won off a bonus can only be withdrawn once a certain amount has been wagered. The amount is usually determined by the size of the bonus. So, if you received a £100 bonus with 10x wagering requirements, then you'd have to wager a total amount of £1,000 before being able to cash out any winnings won off your bonus.
In general, a wagering requirement of 4x is about average and quite acceptable. Anything much more above that is unreasonably high and probably designed to prevent you profiting at all from the bonus.
If you'd like any chance of actually winning something from your bonus, then we'd recommend opting for a bonus with a wagering requirement of around 4x or below. There are some bingo sites without wagering requirements, but the offers tend to be a little less 'generous'.
Minimum Deposit
Most bingo bonuses will require players to make a deposit into their new account before they can access any welcome offers. However, the best bingo deposit bonuses usually have a minimum deposit requirement of £10, but it can vary from one offer to the next.
If £10 is too high, then make sure you read the small print before choosing an offer, as you might only find out after you've deposited that you're not eligible for the bonus.
Or, better still, head straight to our £5 bingo sites page where you can find a load of bonuses available with only a £5 deposit.
On the other hand, if you'd prefer not to deposit anything at all, then check out our list of no deposit bingo bonuses. These bonuses don't require a deposit before the bonus becomes available but they usually come with much stricter terms and conditions and higher wagering requirements - so be aware of this.
Game Restrictions
While most bingo bonuses will give you access to free bingo games, they might not always include every single game available at that site. Sometimes, bonuses are only available on certain games to give you just a taster of what you can expect when you play with your own cash.
The terms and conditions will always state exactly what you can play. Bingo bonuses can be for the latest bingo rooms or a fan-favourite room - but be sure to check before signing up to make sure it's a game that interests you.
The same can be said for bingo bonuses with free spins - the free spins can usually only be used on selected slots.
Maximum Win Caps
Some bingo sites offering a bonus will put a maximum win cap in place. This is another way that bingo sites protect themselves from bonus abuse and ensure they don't go bust while onboarding new players!
Most bingo sites don't have this restriction in place, but some do so it's worth keeping a lookout for. Even a win cap of £500 is actually pretty good - who in the right mind would say no to that!
Time Limits
Most bingo bonuses are subject to certain time constraints. When you create your account, you'll usually have to opt into a bonus and claim it within a specified period of time.
Once you have your bonus credit or free tickets ready to use, you might need to get on and play right away. That's not a problem for most, as that's what they're there for. But, many bonuses must be used within 7 days, and some expire after just 48 hours. Anything under this is a bit stingy but, thankfully, most tend to allow you a little more breathing space. Don't miss out on a great bonus because you didn't notice the time limit!
Payment Method Restrictions
It's not uncommon for a bingo site to make certain payment methods ineligible for a bonus. Regular banking methods, such as debit card payments, are always accepted, but some e-wallets might be excluded.
The reason for this is that they often incur high transaction fees and so would otherwise present a further financial risk to the bingo site. Furthermore, e-wallets are often used by bonus abusers as they can set up multiple accounts and claim the bonus multiple times.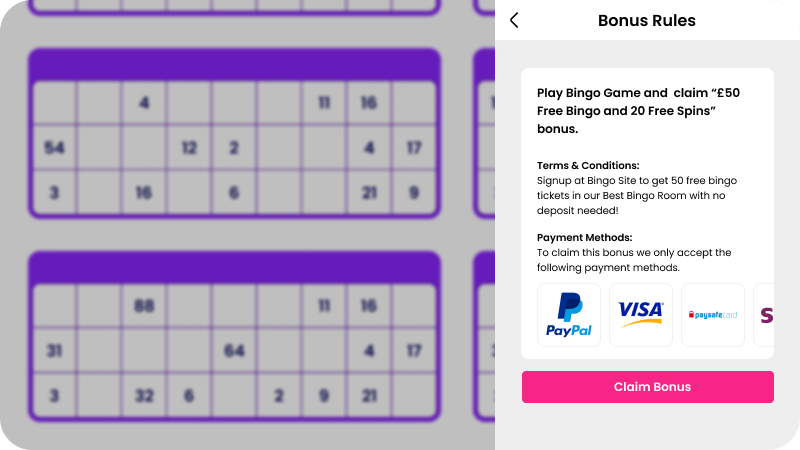 PayPal is the usual culprit. So, if that's your preferred method of payment then be sure to check the terms and conditions of the offer. Skrill and Neteller can also be excluded, and some bonuses might exclude all payment methods other than debit cards.
Types of Bingo Bonuses
The type of bingo bonus that you decide to go for is entirely up to you. It all depends on your style of play and what you are looking for. Some bingo players simply want bingo bonuses with free bingo tickets, whilst others look for free spins on the slots and side games.
Let's take a look at the various bonuses that you'll often find at bingo sites so you can make an informed decision over which is right for you.
No Wagering Bingo Bonuses
A no wagering bingo bonus is considered to be the holy grail for many customers. While you will still need to make a deposit to trigger the offer, you don't have to worry about wagering your winnings many times over before you can withdraw anything won when using it.
This is a big plus as it eliminates confusion and disappointment, but bear in mind that a no wagering deal might not be the best-value offer out there.
Low Wagering Bingo Bonuses
Low wagering bonuses tend to be more generous than their no-wagering counterparts, as there's less risk to the bingo site and so they can afford to give you more. However, the main benefit of low wagering bingo bonuses is that you aren't forced to wager your winnings many times over.
Although you will still have to fulfil the wagering requirement before being able to withdraw any money won from the bonus, there's still a good chance that you'll have some left over which is eligible for withdrawal.
Low wagering bingo bonuses offer good value, whilst having wagering requirements that are more achievable than some of the high and overly restrictive wagering requirements found on some other offers.
Bingo Bonuses with Free Spins
Combo deals that include side games as well as bingo tickets are readily available. Many bingo sites will offer bingo games as well as casino games and slots for you to play, so it makes sense that they'd give new players the opportunity to try out a wider variety of games.
Bingo bonuses with free spins offer a little bit of everything - they give you the chance to try out new and exciting side games as well as bingo games, and often at the same time!
No Deposit Bingo Bonuses
No deposit bingo bonuses are arguably the most 'generous' type of bonus offered by bingo sites. As the name suggests, you won't need to part with any cash to trigger this bonus but you will still need to create an account and, usually, verify your personal details or mobile phone number.
No-deposit bonuses tend to be quite low in value due to the risk they pose to a bingo site. Furthermore, they usually come with restrictive conditions that make it very difficult for you to withdraw any real cash won off the free bonus.
If you are unsure about taking the plunge and making a deposit at a new site, then a no deposit bonus could be a good introduction.
Reload (aka Re-deposit) Bingo Bonuses
A reload bonus is a great way to get additional credit and free games once you are already up and running with your new bingo site. After receiving your welcome bonus, you can go on to make a second deposit and receive a further bonus.
Reload bonuses are usually less valuable than first deposit bonuses but it isn't unheard of to see equally as generous rewards with your second deposit.
Reload bonuses are a great incentive to keep players coming back, and many bingo sites offer them as part of weekly or monthly promotions.
Free Bingo Ticket Bonuses
It makes sense that free tickets are one of the most common types of bingo bonus. After all, we're there to play bingo, right?!
Free bingo ticket bonuses are essentially the same as bingo deposit bonuses, except that the free tickets you receive are usually only eligible in selected bingo rooms.
Nevertheless, the chosen bingo rooms are usually among the most popular, as the bingo site wants to give a good first impression.
Some free bingo tickets are only eligible to be used in 'newbie' rooms, which are dedicated free bingo rooms for new players only.
Free ticket promos are a great choice for most players. Just make sure that any minimum deposit requirement doesn't heavily outweigh the value of your potential freebie. Also, check the T&Cs of the bonus for a maximum payout cap.
How we find the best bingo bonuses
Finding the best bingo bonuses isn't easy. A lot of time and effort goes into evaluating hundreds of offers to make sure that they're great value and have plenty of worthwhile benefits.
Here are some of the things we look out for before featuring a new bingo bonus on our website.
Clear and Reasonable T&Cs
Terms and conditions are notorious for containing hidden restrictions that aren't made clear to customers.
However, following new regulations several years ago, all bingo sites must now clearly and concisely display the significant terms and conditions of a promotion next to the offer.
Even still, they might contain terminology and conditions that most players wouldn't understand or realise the importance of.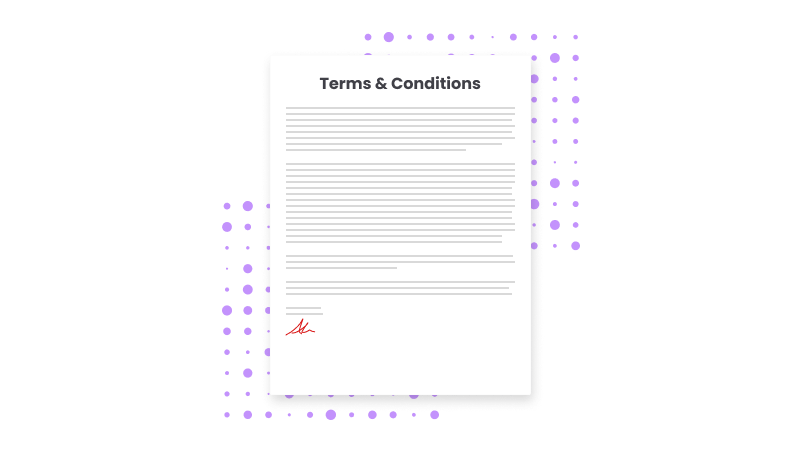 Before accepting a bonus onto our website, we ensure that the significant terms of the promotion aren't likely to cause confusion or nasty surprises. If there are any unusual clauses or unreasonable demands, then we won't feature the bonus on our website and, in the most extreme of cases, won't feature the bingo site either.
We don't agree with operators that intentionally mislead or attempt to deceive players.
Does The Bingo Bonus Offer Value?
Of course, one of the main aspects of what makes a good bingo bonus is the offer itself. We look for bingo bonuses that actually offer value to players. The terms and conditions mentioned above form part of this assessment, but the overall package is also important.
Free tickets to an empty bingo room won't impress many of us. Free spins on an unpopular or dull game isn't much to get excited about. And a bonus that can only be used on casino games probably isn't appropriate to bingo players looking for a new bingo site to join.
The most recommended bingo bonuses on our website are those that tick all the boxes. They offer free bingo tickets or games where players can get a good feel for the bingo community with real prizes. Combo bonuses, such as those offering free bingo tickets as well as free spins, can be really useful in that they allow players to try a few bingo games for free as well as a few slots or other side games. Spin-the-wheel bonuses can be valuable, but only if you land a top prize - the more common prizes are generally no better than the average bingo bonus.
UK Licensed
For anyone playing bingo in the UK, it is incredibly important that they only play at UK-licensed bingo sites.
It is a legal requirement that all operators offering gambling games to the UK public must have a valid licence issued by the Gambling Commission. The licence ensures that the operator complies with UK gambling laws and regulation, and that players are protected from fraud, money laundering and gambling harm.
Gambling regulation in the UK is among the strictest in the world. An operator needs to go through many steps before being eligible for a licence, including competency checks and internal audits to ensure the company has adequate protections in place to prevent data leaks, theft and corruption, and that it has been independently tested for fairness.
A UK operator must also have appropriate measures in place to safeguard players and prevent gambling harm. They must also be subscribed to Gamstop, which is a self-exclusion programme for those wishing to stop gambling.
We don't promote any bonuses from unlicensed operators. All bingo sites on our website are fully licensed and regulated by the Gambling Commission. We also generally prefer bingo sites that are owned by well-known and established operators or parent companies, as they take more pride in protecting their brand, looking after players, and acting responsibly.
Range of Payment Methods
A key aspect of a bonus that often gets overlooked is the payment methods that are eligible for triggering the bonus. Many bingo sites restrict their welcome bonuses to debit cards only. This isn't necessarily a bad thing, as most players use their debit cards anyway. But, some players might prefer using e-wallets such as PayPal or Skrill to deposit, and so bonuses that include more options in their list of eligible payment methods stand a better chance of appearing higher.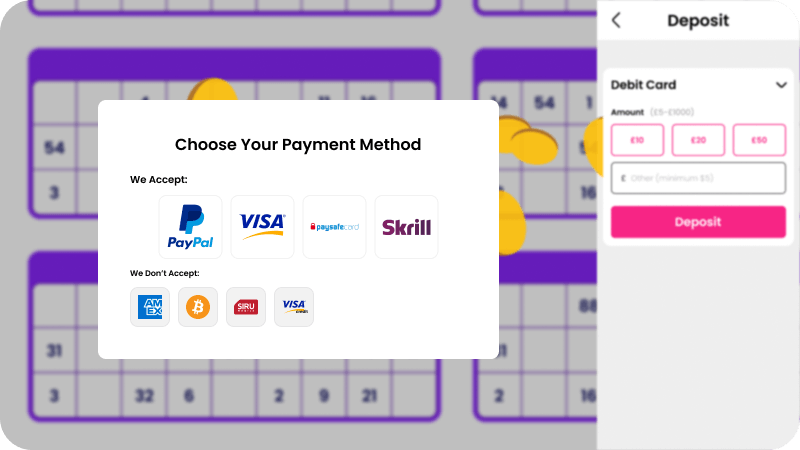 Range of Games
It is quite common to see a bingo bonus restricted to a specific type of game. This makes things easier for the brand to control but does somewhat restrict your opportunities as a player.
We tend to prefer bonuses that allow players to choose what games they play. The bingo site might set the bingo ticket value, but at least players have more options of what bingo room they use their free tickets in, or even the type of bingo variant they play.
This way, they have the opportunity to get a better feel for what the bingo site has to offer, the prizes on offer, and the community they'll be competing against!
Promotions for New and Existing Players
It's important to remember that welcome bonuses are for new customers only. If a bingo site suspects that a player has created a new account with the sole purpose of claiming a welcome offer more than once, then it's likely they'll have their account suspended and any potential winnings confiscated.
However, reload bonuses are usually available to both new and existing players. Once a player has made their first deposit, some bingo sites will offer them a reload bonus as an incentive to make a second deposit. Some bingo sites even offer these reload bonuses weekly or monthly on specific days, so keep a lookout for any promotional emails.
Furthermore, most bingo sites run regular promotions to keep their players engaged. Regular promotions are available to new and existing players. They often have entry requirements, such as spending a minimal amount on bingo tickets, or in a particular room, but often they only require that a player is active on the site. Some prize draw promotions reward players with an entry per £10 they have wagered on bingo tickets during the promotional period.