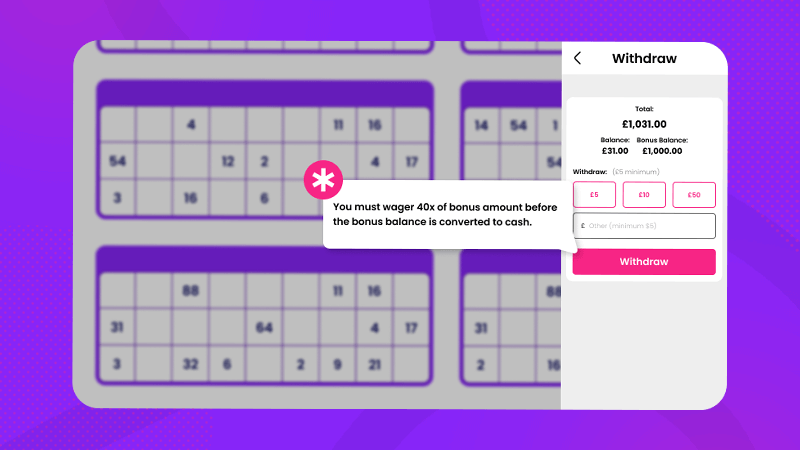 Wager, bet, gamble, put money on, stake, or speculate; there are many ways that we can refer to wagering but wagering requirements are something you will come across at most bingo sites.
The wagering requirement is basically the rule imposed by a bingo site that states how many times you must wager before you are able to withdraw winnings won off a bonus. It is often known as the play through requirement.
What we want to know is what are wagering requirements imposed by bingo sites and how do they affect us as bingo players.
What is a wagering requirement?
A wagering requirement is how many times you must play through a bonus before you are able to withdraw winnings. Sometimes you'll see this referred to as the play through.
There are two types of wagering requirement that a bingo site can impose.
You must wager the deposit and/ or bonus the required number of times before you can make a withdrawal. This is the most common requirement.
If you don't wager the deposit and/or bonus the required number of times and make a withdrawal you will forfeit any remaining bonus – a rare restriction but please note that some sites will actually remove any remaining bonus when you withdraw even if wagering requirements have been met!
Why do bingo sites have wagering requirements?
There are a few reasons for sites to impose these play through conditions;
Preventing multiple deposit bonuses – imagine you get a bonus for your first deposit, decide to withdraw and deposit again and your chosen site offers redeposit bonuses. How many times could you actually claim a redeposit bonus on the very same cash? Obviously no bingo site is going to let this happen, hence the wagering rules.
Loyalty - Basically, bingo sites want their customers to remain loyal to them so once a new customer signs up they will do everything possible to keep that new player. Usually bingo sites encourage new players to sign up by giving them a great Sign Up Bonus but imagine if the customer had a big win from this first ever bonus and decided to simply withdraw their cash and run off into the sunset (or maybe just to a new bingo site)! This wouldn't be a great business model and bingo sites are businesses after all and so they do need to make a profit.
Money Laundering Regulations – businesses must comply with these and ensure it isn't possible to pay money in and withdraw it with no game play
Some people think that these requirements are just another hoop the sites want you to jump through before you can get your hands on your winnings but we hope this guide makes sense of what seems a pointless practice for the average bingo player.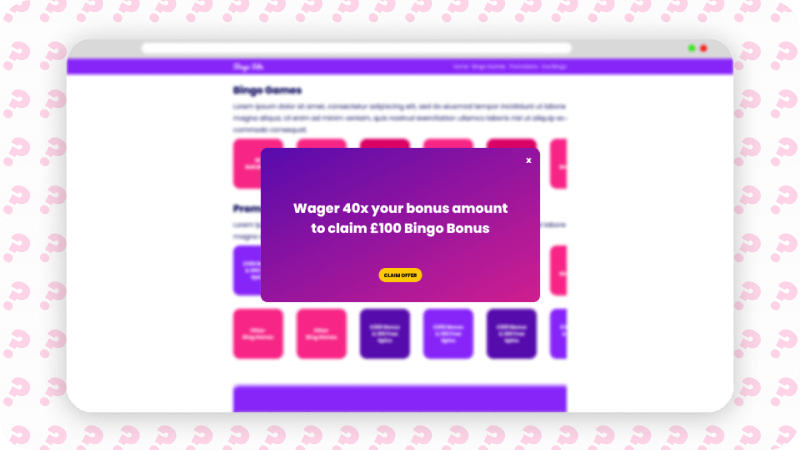 Are wagering requirements bad?
At Best Bingo Websites we like to offer thorough reviews of the best bingo sites covering all aspects of what they have to offer; variety of games, site design, customer service and friendliness but also the new customer offers. As a bingo comparison site we've made it easy for you to see a glance, how those sign up bonuses compare to each other.
Some players are interested in everything a site has to offer; maybe they've seen a TV advert and want to play a particular game that only one site offers. These players won't mind the wagering requirement at all because they are there for the fun.
Other players may only be interested in the bonuses a bingo site offers. The draw of a huge welcome bonus is a real thing, but receiving a bonus with no withdrawal restrictions in the form of wagering requirements is quite something else. If bonuses without wagering requirements sound like your cup of tea, then check out our comprehensive guide to no wagering bingo sites.
Basically, wagering requirements aren't bad but you certainly should do your homework and find out how high they are and decide how that affects you - do you care because you really just want the fun of playing at that site or do you take your bingo a little more seriously?
Which bonuses have wagering requirements?
You will find wagering requirements on most bonuses, unless you go find a bingo site with no wagering requirements. You will also find that the wagering requirements will vary for bingo bonuses and bonuses for slots and other games. Slots and other games usually have much higher wagering requirements but we will share details of these within our detailed bingo site reviews so you are fully informed. Even if a new player bonus, redeposit bonus or one-off bonus doesn't have wagering requirements, you will find that you still have to wager the bonus plus the deposit before being able to withdraw. Some sites say this is 1x wagering.
Why are some wagering requirements higher than others?
It used to be said that the higher the bonus on offer, the higher the wagering requirements. Not so much any more. Slots bonuses have much higher wagering requirements but why? Simply because the RTP or Return to Player is much higher which would make it impossible financially for sites to make a profit if they didn't have these rules.
We have a good choice of bingo sites which have no wagering requirements on the bonus at all! These are great to find but there are also plenty of sites where the minimum play through is 2x the bonus too which we are more than happy to promote.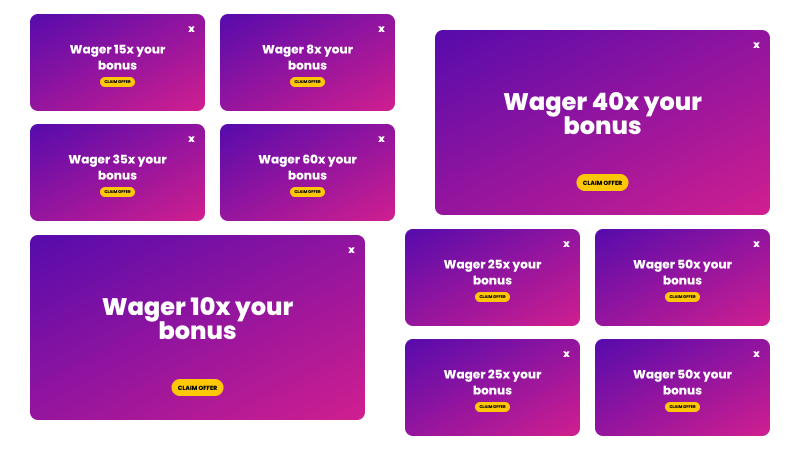 Where can I find the wagering requirements?
We show wagering requirements in our detailed bingo site reviews but you should usually find the wagering requirements displayed quite close to any welcome offer as the Gambling Commission decided to make bingo sites bring these details out into the open in 2015. Prior to this you would often have to search in the small print of the T&Cs to find full details.
Also, the CMA* launched an investigation into online gambling in 2016 because they were worried that players were losing out because gambling sites were making it too difficult to understand the terms on which they're playing. This led to them issuing notices to firms to provide evidence that their players weren't losing out for various reasons but including:
"Being locked into complex and strict requirements linked to gaming promotions that are difficult to understand and may be unachievable. These can include terms that require people to play for longer than they had bargained for before they can withdraw money. The CMA is also concerned that players may not be able to withdraw what remains of their deposit, and any winnings, when they want to stop playing."
Bingo operators have to be transparent about everything now - which is great news for bingo players!
* The CMA is the UK's primary competition and consumer authority. It is an independent non-ministerial government department with responsibility for carrying out investigations into mergers, markets and the regulated industries and enforcing competition and consumer law.