Popular Bingo Site Payment Methods
There are plenty of payment methods available, all offering various benefits for players. However, what works for one person might not work for you, so it's important to see what's out there and choose the best payment method for your bingo needs.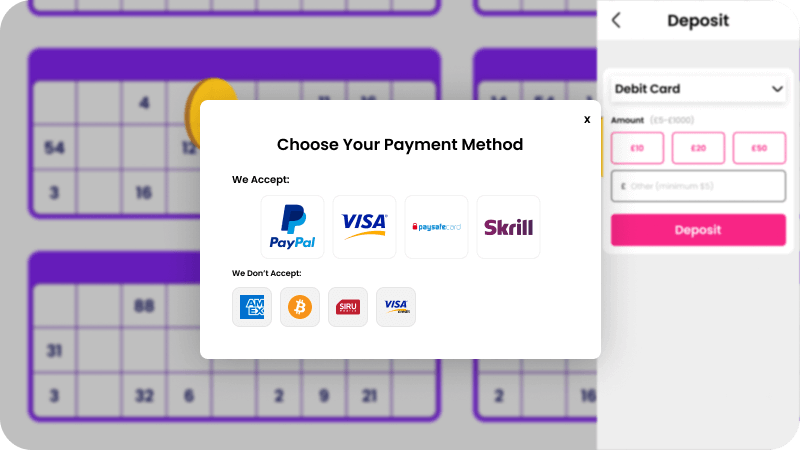 Debit Cards (Visa / Mastercard)
For the broadest range of bingo action, you can't go too far wrong by using debit cards as a payment method. Debit cards are available to use at literally every bingo site in the UK, so you'll never have to worry about depositing or withdrawing.
Debit cards are fast and secure thanks to multi-layer protection throughout the network and it's all taken care of by trusted providers with great reputations such as Mastercard, Maestro, Visa, and Visa Electron.
Most bingo sites won't apply any fees to debit card transactions and banks don't charge any fees for using this service either (unless you're with a really weird bank!). If you want to know exactly where you stand financially and carefully budget by using your bank account, then debit cards are a top choice.
The only major downside to this payment method is that it's a little slower than most others when it comes to withdrawing your winnings. Deposits are instant, but withdrawals can take between 3 and 7 working days due to bank processing times which are outside of a bingo site's control.
Neteller
Neteller has a long-standing relationship with those who like to have a little flutter here and there. This e-wallet service was created in 1999 with iGaming fans in mind and provides fast, safe and private payments. Customers in over 200 countries are now enjoying the convenience and security that this payment provider brings as standard.
Neteller bingo sites allow you to move funds from your Neteller account directly to your bingo account with high transaction limits and usually without any fees. However, Neteller does charge a fee, usually 2.5%, when topping up your account with them, so keep that in mind.
There are loads of great bingo sites that accept Neteller, but you need to pay attention to the small print when claiming bingo bonuses, as Neteller and other e-wallet deposits often don't qualify.
PayPal
PayPal is a complete online payment system that connects businesses and individuals all over the world with super-fast and secure technology. You can exchange various currencies and even connect your bank account directly to make payments and transfers.
While fees are fairly low, you will find they are applied for performing most transactions using this platform. Buyers don't usually incur fees for purchases, but sellers do. Therefore, PayPal bingo sites will often pass on this fee, or a percentage of it, to players.
Using PayPal is simple and safe and making deposits to play bingo will usually result in instant access to all of the fabulous games. It is incredibly simple to make use of this trusted tech that has been around for over two decades on all sorts of devices including mobile apps as well.
Trustly
Trustly is a Swedish fintech company that started life in 2008 bringing a different take to online payments. At the point of sale, you're prompted to log into your online banking application and confirm a purchase. This keeps things fast and means that getting access to Trustly bingo sites and all of the games they offer is virtually instant.
The two main advantages of using Trustly are convenience and security. You won't need to search for your debit card when trying to make a payment and no registration is needed either. However, you will need to bank with one of the registered partners in order to deposit at bingo sites that accept Trustly payments.
paysafecard
paysafecard offers a host of benefits for customers looking to make online purchases without needing to hand over too many details. There are a couple of different ways to use paysafecard.
Firstly, the oldest method, and still preferred by some, is to go to a physical outlet where you can purchase a voucher containing a 16-digit code. You can use this voucher code to make deposits at paysafecard bingo sites.
The second method is to register an online account with paysafecard and apply for a prepaid Mastercard. This will allow you to access bingo sites that accept paysafecard and take advantage of much higher transaction limits.
Some sites may charge a fee for using paysafecard and you can also incur further fees if you do not use your voucher within one month. Another important point to note is that you can't use this product to make withdrawals at most bingo sites.
Skrill
Skrill is another convenient and super safe e-wallet that is very popular with online gaming enthusiasts. This product has been around for over a decade and continues to expand its customer base thanks to its easy-to-use platform that only requires an email address to get started.
Deposits and withdrawals from Skrill bingo sites are incredibly fast and there is also a downloadable app to access your cash from your mobile or tablet.
You will need to check the small print at bingo sites that accept Skrill to see if there are any additional fees for making withdrawals using this method. You'll also find that Skrill charge a fee for transferring cash out of your Skrill account back into your bank account
Pay By Mobile Phone (Boku + Payforit)
Pay by mobile bingo sites are fantastic if you would like to utilise some of the available top-up credit that is currently tied up in your mobile phone. You can take £10 at a time from your pay-as-you-go credit and use it to make a deposit at a bingo site that accepts payments by mobile phone.
You don't have to worry about card details or other personal data being transferred when using this simple and convenient payment platform. All of the top mobile networks in the UK will facilitate this service and there aren't generally any fees to worry about.
Unfortunately, withdrawals are not available back to your mobile phone credit, so you will need to use an alternative payout option. Another slight downside is the deposit limit in place as you can only make 3 deposits of £10 per day.
MuchBetter
MuchBetter bingo sites have been gaining traction over the last few years thanks to the instant deposit capabilities and high security that this product offers. Once you have an account open with this MuchBetter, you can top it up with funds via various methods and use it to make payments anywhere you like.
To make deposits and withdrawals, a bingo site that accepts MuchBetter will simply ask you for your e-wallet and mobile phone number to get your money moving quickly.
While it is free to add funds to your MuchBetter account using a bank transfer, they can charge up to 8% for using other methods such as debit or credit cards. The only downside to using MuchBetter is that the majority of bingo sites in the UK don't currently accept it. The few exceptions are Paddy Power Bingo and Betfair Bingo.
Apple Pay
Apple Pay was created in 2014 and allows for peer-to-peer, online and in-person payments using your stored debit cards. You can use Apple Pay through your mobile phone, tablet and some MacBooks as well, but remember that they must be Apple products running iOS 8 or higher for mobile or iOS 10 for web applications.
To verify a payment at bingo sites that accept Apple Pay, make sure you have your device to hand to either enter a passcode, use the touch ID sensor or face ID recognition.
Keep in mind also that you can only use Apple Pay via a bingo site's mobile app. It can't be used on the desktop version of a bingo site.
You won't usually be charged for making payments with this product as the money is coming directly from your debit card, but the number of bingo sites accepting Apple pay at present is quite limited.
Google Pay
The Google Pay application is a simple digital wallet brought to you by one of the most recognised brands in the world. Getting started is quick and easy as long as you have a compatible device that allows you to download the app.
You can add your debit cards, and pay directly through the app—either online or in person using contactless payments.
Not all online stores accept Google Pay and there are fewer bingo sites supporting it. However, bet365 Bingo does support Google Pay as long as you're using the bet365 mobile app.
ecoPayz
You can use ecoPayz to make secure payments online and this includes making deposits and withdrawals at top UK bingo sites. The payment provider has a fantastic reputation in the online payments industry and customers have been enjoying this convenient and secure method since 2000.
Bingo sites that accept ecoPayz allow for fast deposits and the whole process works in much the same way as a standard e-wallet. All you need to do is connect your debit card to your account and head to the cashier to make a payment using the ecoPayz platform.
They also offer a prepaid Mastercard should you find yourself at a bingo site that doesn't accept ecoPayz directly. As with other e-wallets, the main advantages here are that you can use this product on various mobile devices and in various currencies too.
However, the choice of bingo sites is limited and you may find some transaction fees are applied, so always check the small print.
Deposit methods no longer active at UK bingo sites
Payment methods come and go over the years with some becoming completely redundant while others are removed from general use for certain activities. Gambling laws and consumer laws are constantly evolving and this will have a major effect on the payment platforms that are in circulation.
We've compiled an extensive list of popular payment methods that are no longer available at UK bingo sites - so you don't get caught out trying to use one. Here are a few of the most notable payment options that have disappeared from view in recent times.
Credit cards
Credit cards were once the preferred payment method in the UK and it still remains this way in many other jurisdictions throughout the world. However, there is an obvious downside to allowing players to fund any gambling activity using credit.
Credit is naturally tempting as it means you don't need to spend your own cash while you enjoy the bingo games on offer. However, credit still needs paying back whether you win or lose.
As some customers began to overspend on their credit cards, the UK Gambling Commission had to step in to prevent players spending money that they simply did not have. In April 2020, the decision was taken to ban credit cards entirely at bingo sites and it is no longer available in the UK.
There are no alternatives to playing with credit cards, so debit cards, e-wallets and prepaid cards are the only options left.
Entropay
Entropay had a successful business model on its hands being one of the first companies to offer prepaid cards that were accepted all over the world. Other companies, such as paysafecard, have gone on to develop a similar product, but it didn't work out in the end for Entropay.
In 2019, Visa removed its partnership with the company and no longer supplied card services. It withdrew its European licence and the business ceased almost immediately.
But all is not lost for bingo fans as alternatives such as bingo sites that accept Skrill, Neteller and paysafecard prepaid cards are still very much alive and kicking at sites like Paddy Power Bingo and Kitty Bingo.
Siru Mobile
Siru Mobile was an extremely popular payment platform that allowed customers to make deposits at bingo sites without paying for them straight away. The funds were added to their bingo account and added as a cost to their mobile phone bill, which would be paid at the end of the month.
It was seen as a slightly risky strategy as customers could run up high phone bills without being able to pay it back. The Siru Mobile payment method was removed from bingo sites in January 2022. Pay by mobile bingo sites still exist but funds come from pay-as-you-go credit instead, meaning players must fund their mobile accounts before being able to deposit at a bingo site. Boku and Payforit both offer this service at several of the best bingo sites such as MrQ Bingo.
Protection of Funds
Bingo sites have a duty to ensure that player funds are protected from insolvency by holding the funds in separate accounts.
Although this does add some extra protection, there are three levels of protection that offer varying degrees of security, and one of them isn't as protected as you might think…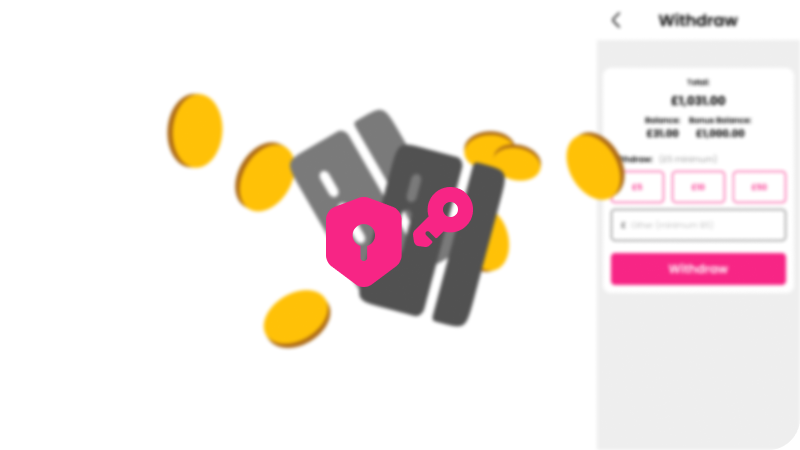 Low/Basic - Not protected
Low-level protection is the most basic requirement that a bingo site must adhere to. Player funds are kept separately from the bingo site's own cash, but the funds could still potentially be lost if the bingo site were to fall into insolvency.
Players have been caught out before with this basic level of protection and Football Index is one of the most widely known examples. As the company ceased trading, they still had up to £90 million in open bets, but they weren't obliged to return any of that cash to the players.
Jumpman Gaming bingo sites generally have this level of protection, so you might want to look a little closer at their payment protection policy before you commit. That's not to say that you shouldn't play at these bingo sites but you should be aware that your money is not fully protected. Jumpman Gaming has a lot of money behind it, but the same cannot be said for smaller companies.
In March 2019, the UK Gambling Commission officially changed its classification of this level originally known as basic. It's now widely known as 'not protected' rather than low or basic.
Medium
Some bingo sites that accept MuchBetter payments and other deposit methods will have a medium protection level in place. This means that they have taken out some form of insurance or have a bank guarantee to protect player funds in the event of insolvency. This acts as a safeguard for players meaning that you'll have a better chance of getting your money back if the business goes broke.
While you might not get your funds back straight away, there's a good chance you should see it after any official proceedings have been completed. Most of the time, medium protection bingo sites will compensate players but it's worth noting that this is not always the case and medium protection is not 100% guaranteed to return your money.
Any of the sites powered by Dragonfish software will offer you this level of security as well as PlayOJO Bingo.
High
The highest level of protection that you can achieve for your bingo balance is where the bingo site makes provisions for keeping player cash in a completely separate account that it has no control over. An external auditor will have the final say over these funds.
Ultimately, this means if the bingo site goes under, then the company will not be able to take your funds and you will be paid back in full by the independent third party company. These are easily the safest bingo sites out there but only a small number of bingo sites offer this level of protection.
For complete peace of mind, consider Coral Bingo, Gala Bingo, Paddy Power Bingo and tombola. All of these bingo sites offer this very top-level protection so you can rest assured that your money is safe should the worst happen.