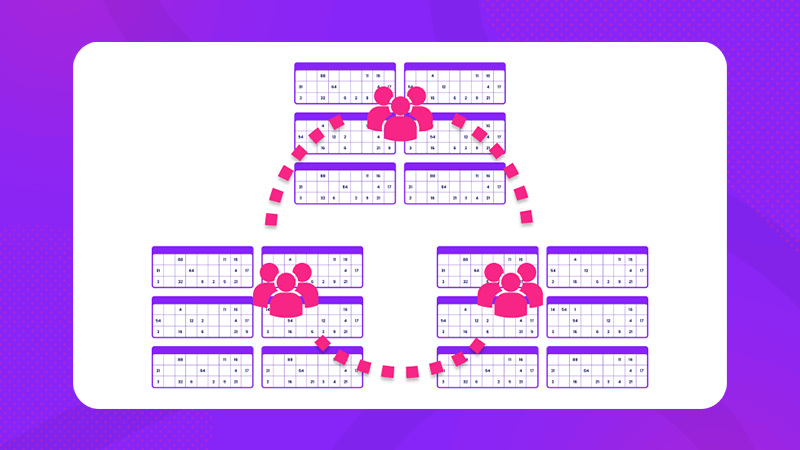 Bingo networks are bingo sites that combine forces to form a larger bingo family. There's strength in numbers, and for bingo sites, this often translates into bigger prize pools, larger, more vibrant online communities, more generous bonuses and a host of other benefits.
Names like Pragmatic Play, Entain and Playtech Virtue Fusion are amongst the most widely played online bingo networks, with countless thousands of players all taking part in the action. But what should you be looking out for when weighing up your options, and how do the pros and cons of bingo networks compare with standalone, proprietary bingo sites?
What to look out for with bingo networks
Not all bingo networks are created equal, and when it comes to choosing the right network for your bingo play, there are a number of important things you should be looking out for.
Promotions
Most networked bingo sites share the same promotions, and it's worth scouting out a few different options to find the most appealing promotional lineup. Playtech Virtue Fusion bingo sites are renowned for their daily games like Paddy Power Bingo's Cash Reel Spinner, Kitty Bingo's Daily Kitty Wheel and Buzz Bingo's Daily Spinner, which offer players more chances to win, in addition to the main bingo offering. There are also similar welcome bonuses and loyalty bonuses offered across network sites, so bear in mind the need to assess different promotional offers when choosing between different bingo networks.
Community
One of the most important elements of online bingo is the community. Different bingo sites and networks all have their own feel, and you'll find connections in some that aren't as strong in others. There's no shortcut here - it's only a case of feeling your way through different communities, and with different community managers, or CMs. Communities tend to be limited to the specific bingo site and don't span different network sites, though you may see CMs popping up in multiple different sites across the network.
Prize Pools
The power of networks means there's more opportunity for larger prize pools in network sites than with standalone bingo rooms. But that doesn't mean it's not still important to do your homework. In fact, in some cases, larger prize pools can be found in exclusive bingo rooms at standalone sites, so research here is important to make sure you're playing in the most potentially lucrative games.
Wagering Requirements
This is a biggie. Wagering requirements vary from site to site, and from network to network, with some being more generous than others. Wagering requirements at 4x or better are considered low - this is the multiple of any bonus amount you have to play through before you can withdraw, so even the difference between 4x and 5x wagering can be significant. Some networks even have no wagering requirements, such as Dragonfish's Real Bingo Network, giving you a much better chance of withdrawing winnings from promotions and other offers.
Payment Methods
Another technical point of note, but one that makes a huge difference to your playing experience. Payment methods for deposit and withdrawal are usually determined at the software level, so bingo rooms running the same backend software will tend to offer the same range of options and processing times. However, there is substantial variability here, and if you're looking for a particular payment method, or you're hoping for an easy withdrawal experience, it's important to know this in advance before you get in too deep with one particular network or bingo site.
The advantages of bingo networks
Bingo network sites benefit from the power of the collective, often affording bigger prize pools, better promotions, and a familiar playing experience, as part of a large, trusted online bingo family. There are a number of key advantages here over your typical one-and-done bingo room.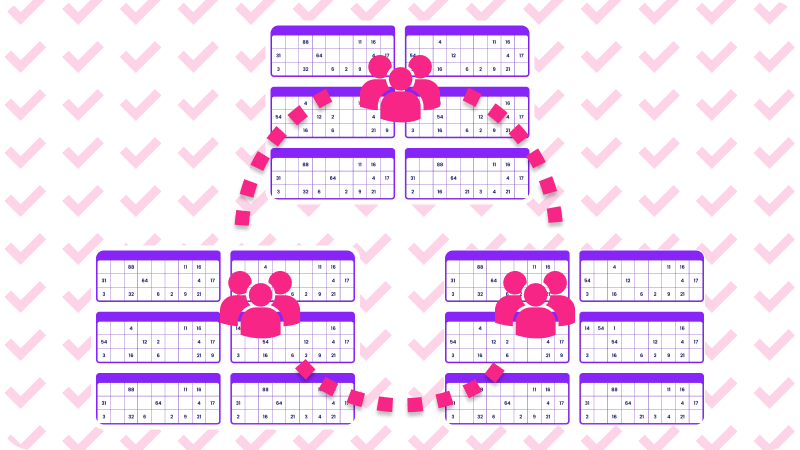 Frequent Promotions
From special games and jackpot rooms through to luxury holiday giveaways, bingo networks tend to run eye-catching promotions on the regular. Because there are so many players, it's easier for bingo networks to offer prizes that simply aren't available on most individual bingo sites, and it's a big part of the thrill and excitement of playing with networked bingo sites.
Larger Wins
Whenever you have more players contributing to a prize pool, it's legitimate to expect the prizes on offer to be that much larger. One of the main benefits of bingo networks is that there are larger wins on the table. Jackpot wins might not come around for you as often as with smaller bingo rooms, but when they do, they have life changing potential. Pragmatic Play and Entain tend to have bingo rooms with jackpots regularly reaching into the thousands, purely as a result of the sheer number of players.
Familiar Games and Rooms
Bingo networks tend to share the same games and bingo rooms, so when you find something you like, you'll know you've found a bingo network you can call home. Note that there are still exclusive games available on most sites, particular to the site rather than the network. But for the most part, there are similar gaming experiences to be had across different sites in the same network, and many players enjoy this familiarity.
Trustworthy and Licensed
Bingo networks have the financial backing of multiple different bingo sites, and are licensed and regulated by the UK Gambling Commission. Trust is always important in any online transaction, and bingo is no different. When you're playing at a bingo network site, you can be sure you're operating in a regulated, fair environment overseen by governing eyes - perfect for peace of mind while you play. The biggest bingo networks like Pragmatic Play, Playtech Virtue Fusion, Dragonfish and Entain are licensed in the UK, meaning they are necessarily more secure and trustworthy places to play.
The disadvantages of bingo networks
That said, bingo networks aren't for everyone. For some players, the downsides of networked bingo sites point them towards a preference for standalone operators - sites which exist only within their own communities, and don't expand beyond the boundaries of their own virtual walls.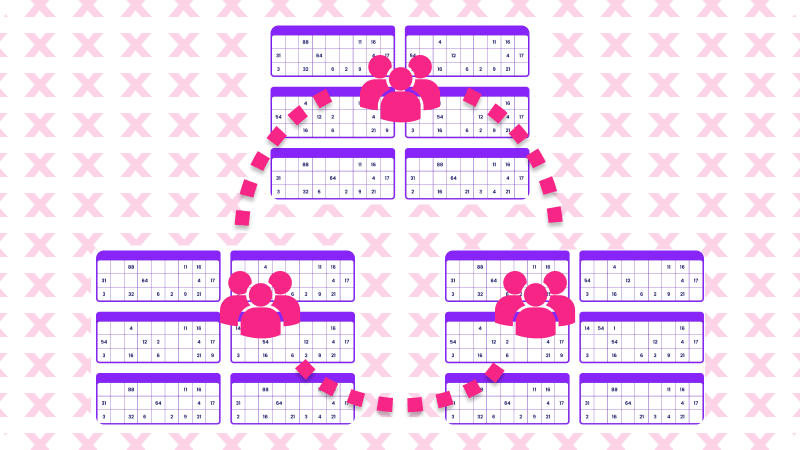 More Competition
More players might mean the potential for bigger jackpots. But it also brings issues around competition. When there are more players competing for the same prizes, your chances of landing the win reduce in equal measure. If you're chasing a jackpot, a hundred players is always better than a hundred thousand. Of course, the network effect often allows these jackpots to escalate to bigger numbers, but it's still unsurprising some players prefer to play in smaller groups to reduce the number of competing players in the same game.
If this sounds like you, you might want to check out sites like Tombola Bingo or MrQ Bingo - proprietary bingo sites that don't operate as part of a larger bingo network. There's still the chance to win great prizes when your numbers come up, and you don't have to compete with the same volume of players as you'll find across some of the bigger networked sites.
Generic Playing Experience
From a playability point of view, many network bingo sites share the same software, which means a very consistent gameplay experience. In some cases, it's virtually indistinguishable between different operators within the same network - aside from a few colour changes and different logos. If you're looking for bingo sites that have something to offer in their own right that feels unique compared to other bingo sites you've tried, you might be better off looking towards non-networked sites for your bingo play.
Summary
Networked bingo sites have a lot to offer, and can often make for a more enjoyable, more exciting bingo experience. While this doesn't take away from the need to review individual bingo sites, and to do your research before committing to any particular operator, players often take comfort in knowing they're playing as part of a larger collective. Bigger prize pools, more active communities, daily promos, bonuses and other perks make network bingo sites a go-to for a lot of online bingo players.
Of course, there are still those who prefer to play with standalone sites, and there are valid reasons for making that choice. Sites like MrQ and Tombola only contain players from their own site, and operate on a much tighter scale than the networks.
But whichever way you lean, it's still crucial to read up on different operators, and to be prepared to try out different bingo sites and networks along the way, so you know you're getting the right deal.