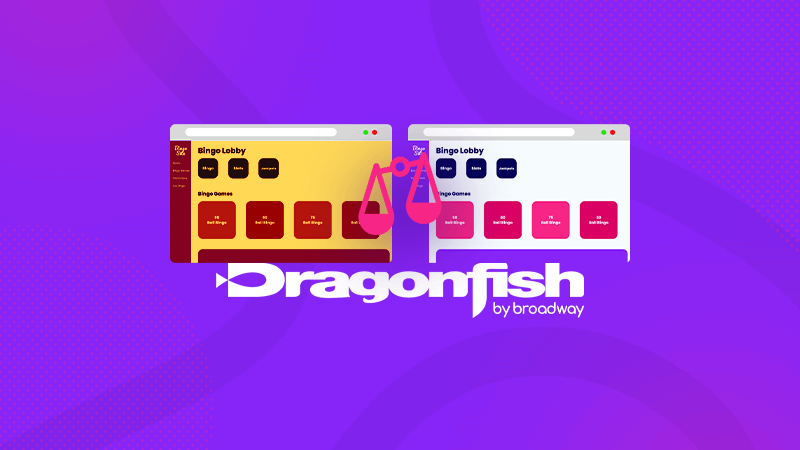 What is Dragonfish Software?
Dragonfish software is a rebranded and updated version of the software produced by Globalcom Ltd. After 888 Holdings bought out the software creator in 2007, they acquired the software package and renamed it Dragonfish.
This software powers various elements of all of the Dragonfish bingo sites including the bingo rooms, side games, payment methods and mobile optimisation. The whole show is now owned by Broadway Gaming who purchased the Dragonfish brand from 888 Holdings in 2022.
90-ball, 75-ball and 52-ball bingo rooms
The main attraction at Dragonfish bingo sites is the top selection of traditional bingo games and those with a twist that are a common feature at all brands these days. It all began with 90-ball bingo played on a 3x9 grid with 15 numbers and a standard one-line, two-line and full-house format. At Dragonfish sites, these rooms include Blighty90, Kaching, Fun in 90, Last Call, Gobsmacked and Big Bang.
75-ball games feature a 5x5 grid with 24 numbers and the prize is determined by a pre-set pattern that differs between games; it could be an 'X' or a 'tick' pattern, for example. You can find Mystery Jackpots, Most Loyal, Number 10, Wonky and Street Party at Dragonfish sites.
You'll also find 52-ball bingo with the Bingo Deal Room offering yet another variation on the theme. Instead of regular numbers, you'll have a number of playing cards that must be marked off as they are called.
Side Games
Dragonfish sites present other ways to get involved with over 800 slots and Slingo games from Eyecon, NetEnt, Blueprint Gaming, Wazdan, SG Digital, Inspired, Microgaming and Pragmatic Play. Slots include Fluffy Favourites (including jackpot versions), Fishin' Frenzy, John Hunter and the Book of Tut, Tomb Raider, Big Fishing Fortune, Rainbow Riches and Starburst.
Supports multiple devices
One of the great things about this software suite is that you won't need to download an app to access any of the brands as the websites come mobile-optimised as standard. Android and Apple users simply need to type in the web address and they'll automatically be presented with a perfectly adapted version for mobiles and tablets.
A range of payment methods available
All sites will have a range of standard payments available such as debit cards, for example. Paypal, paysafecard and Apple Pay are also widely accepted but individual brands are able to pick and choose the payment methods that are most appropriate for them.
Hunky Bingo allows Debit Cards, PayPal, paysafecard and Interac but does not accept Apple Pay. Bucky Bingo, on the other hand, accepts Debit Cards, PayPal and Apple Pay but not paysafecard.
If you have a specific payment method in mind, then it's always best to check out these details in our brand reviews to see exactly what platforms you can access.
Differences between networks
Despite the fact that all Dragonfish sites run on the same software, they won't necessarily be using the same network. There are two distinct networks that brands use under the Dragonfish heading and these are the Real Bingo Network and the Globalcom Network.
You will be able to determine which network you are on when you sign up with a Dragonfish brand by checking out the following aspects.
Wagering requirements
One of the main reasons to choose one brand over another will be the wagering requirements imposed on any welcome bonuses and regular promotions. These requirements determine how many times you must wager any bonus credit before you are able to take hold of the winnings.
Real Bingo Network sites are free from wagering requirements but Globalcom Network sites are not. One thing to bear in mind is that wagering requirements are generally in place because a bonus is much larger, so if more bonus credit is important to you, you will have to suffer these restrictions.
Promotions
Opt-in promos are available to you when you sign up at a Dragonfish site on either network and they'll usually land you free spins or free bingo tickets to use according to the promotion's rules.
In addition, Globalcom sites usually have a loyalty scheme, such as the one at Bucky Bingo, which offers reward points for every £1 deposited and wagered. Reaching 2,000 points will give you access to free bingo, bonus spins and cash.
Games
The main bulk of the games across both networks are the same but you'll find that some rooms have a different name to keep things feeling a little more individual. You'll still be playing against the same players even if they are joining a room at another site with a slight variation in the name.
It is also possible to find exclusive rooms on one network or the other and on individual sites as well regardless of the network. It all helps to stop things from seeming too similar across the entire brand.
Variation of bingo games
Just because 90-ball, 75-ball and 50-ball bingo games all feature on the Dragonfish software, it is entirely up to individual sites if they want to exclude any of the rooms. The Tuesday Rocks daily room, for example, is popular at some brands like Loadsa Bingo but Hunky Bingo has decided not to include it.
If you have a specific bingo room that you know and love, make sure that it is available at your chosen Dragonfish site before you sign up.
Distinct themes
Dragonfish bingo sites come with many various themes to add a little individuality to each brand. With many similar elements across the sites using this software, it might come down to the overall look and feel that makes you choose one over the other.
If you're into big strong men, then Hunky Bingo might certainly be a consideration but if you like a Spanish holiday vibe, then Costa Bingo could be your go-to site. Loadsa bingo is one of the no wagering sites that is bold and in your face while Love Hearts Bingo is a romantic-themed site that even sends you a bunch of flowers on your birthday.
Unique Community
While the players might be the same in the like-minded bingo room regardless of the site you are using, all of the communities at Dragonfish bingo sites are different and pertain specifically to the brand you are signed up with. This means that you will get to know and socialise with people who have the same interests as you and have found a common love of the same themes and games.
Summary
One of the things that you know you are getting regardless of which brand you choose using this software is that you will get a selection of 90-ball, 75-ball and 52-ball bingo as well as over 800 slots and other games. This choice of iGaming entertainment is usually one of the biggest pulls for most players.
Some players might consider a slight downside to using any type of bingo network is how the selection of games is very similar across any of the connected sites. However, brands using this software are able to pick and choose their rooms and offer products a little more targeted to their audience.
Network benefits
Having two distinct networks running side by side is a great advantage as we have seen and one of the biggest benefits you'll notice as a customer are the types of bonuses up for grabs. Welcome deals for customers on the Globalcom Network might have to suffer wagering requirements but these are usually quite small, so don't let this put you off until you've had a chance to check out the promo details.
There are loads of brands currently connected throughout the Dragonfish networks bringing large player numbers together to help bolster the prize pools. This can be potentially great news for your bankroll but will require you to compete with more players. Remember that each community is individual to the brand so you'll only be socialising with chat buddies signed up at the same site as you.
Alternative action
If the level of bingo entertainment isn't quite what you were looking for and perhaps you've got 80-ball or 30-ball bingo in mind, then don't worry as there is a solution for you! You might want to consider Entain bingo sites that feature these rooms and have a host of other benefits as well.