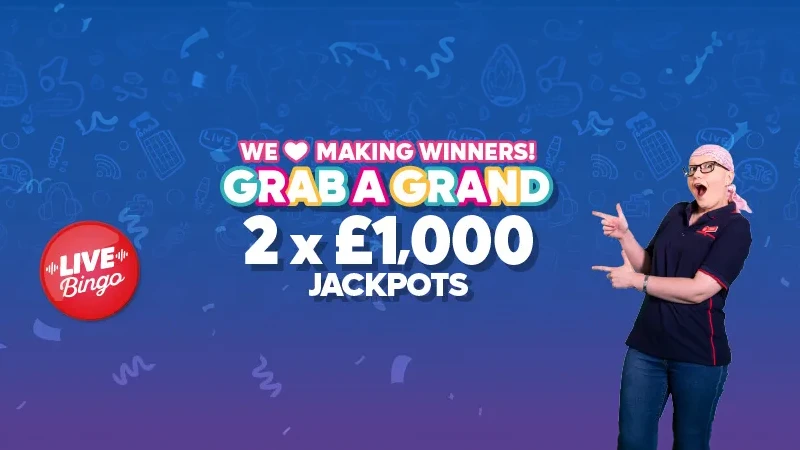 Buzz Bingo's latest offering is one not to be missed, granting generous £1,000 prizes multiple times every day. On top of this, the last day of the promo will see ten guaranteed jackpots being won.
This means that, across 70 hours of bingo, £70,000 will be awarded to 70 players. Keep reading for your chance to be one of them!
The deal
With the 'Grab a Grand Every Day in Sept' promo, Buzz Bingo are offering players two chances to win a £1,000 jackpot every single day.
This will be music to your ears if you're a jackpot hunter, or if you're already familiar with Buzz Bingo's Live Bingo room, which is well worth a visit whether there's a promo on or not.
For your chance to win a grand, you'll need to be playing in the right room at the right time, and jackpots are awarded to the players who win a full house in the fewest calls within a one-hour window.
What's more, when the final day of the promo rolls around, Buzz Bingo is giving away ten £1k jackpots!
How to claim
These prizes are not just potential jackpots, they're guaranteed!
You'll need to log into your Buzz Bingo account and check that you meet the eligibility criteria mentioned below and on the promotion page. If you don't already have an account, take a look at the current welcome bonus and get yourself signed up here.
Enter the Live Bingo room between 8pm and 10pm any day in September, then buy up to 30 tickets, which are just £0.10 each, and cross your fingers for a full house!
For each of the two hours during the qualifying time window, a £1,000 prize will be awarded to the player who scores the fastest full house at any point during the hour.
There's a live in-game leaderboard that shows which player is currently winning, so you can monitor your progress easily. This leaderboard will reset after the first hour, when the first prize will be awarded to whichever player is winning, and the next hour begins.
If you don't come out on top, don't be disappointed–there's always tomorrow! And, on October 1st, the promo is running for a full ten hours, during which ten £1,000 jackpots must be given away.
Terms & conditions
As always, you'll want to pay close attention to the terms and conditions. Here are some key things to be aware of:
Eligible players must be 18 or over, based in the UK, and holders of a GBP currency Buzz Bingo account.
This promo runs every day in September, with an extra 10 prizes being awarded on October 1st.
Each day from 8pm to 9pm, and again from 9pm to 10pm, the fastest full house winner will win a £1,000 prize.
This time period is 12pm to 10pm on October 1st.
Players can buy up to 30 tickets per game, and each ticket costs 10p.
In the case of any draws, the jackpot is shared between the winning players proportionally to the number of tickets they purchased.
There are no wagering requirements involved, so you're free to cash out your winnings.
Pay close attention to the prize draws, as players who don't notice they've won, and don't respond to the Presenter, may forfeit their prize money.
Buzz Bingo promos
This promotion replaces the Must Bin-GO! jackpot we saw last month, but Buzz Bingo has plenty more to offer.
Since its 2018 launch, Buzz Bingo has become well known for offering live-streamed games in real-time, as well as a range of popular casino games, some generous jackpots, and some promos with no wagering requirements.
Check out our full Buzz Bingo review, to find out more about the regular free games, 1p bingo tickets, and exclusive bingo rooms, as well as the site's layout and navigation, which is helpful and newbie-friendly.
On the subject of players who are new to Buzz Bingo, those who are just registering now can claim £40 worth of bingo bonuses or 200 free spins (wagering requirements apply) by depositing and staking £10.
Or, as some savvy players will no doubt notice, you can claim one after the other! This double-barreled welcome offer is well worth snapping up, especially if you're getting on board with Buzz Bingo to claim the September promotion on top of these.
Whether you're a newcomer to Buzz Bingo or a loyal long-term player, you'll want to make the best of this month's 70 guaranteed jackpots.