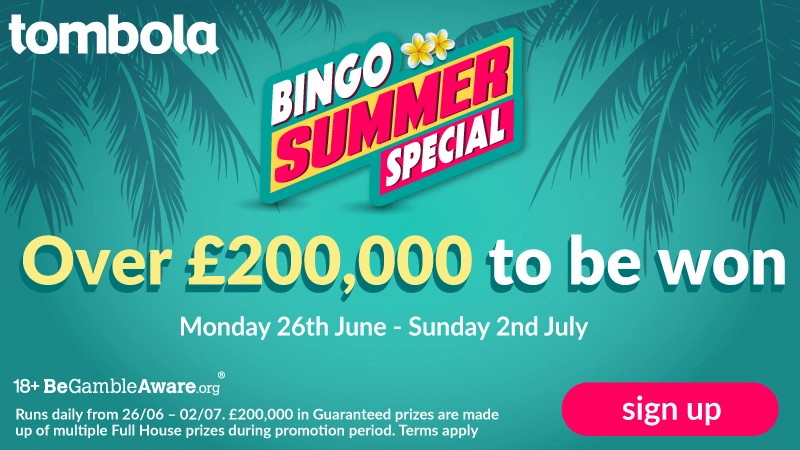 Get that summer feeling by taking part in tombola bingo's incredible Summer Specials Week. With over £200,000 in prizes to be won across a range of different events, this is a promotion you certainly don't want to miss out on.
Summer Specials events will be held from the 26th of June to the 2nd of July, and with a wide range of different themes and games, there is something here to appeal to everyone and all prizes are yours to keep with no wagering attached. If that wasn't enough, tombola is also offering free daily games and prizes that will be available across Facebook and Instagram. Let's find out more!
Claim over £200k in prizes
Tombola is one of the UK's best bingo sites with thousands of players who enjoy the incredible games and promos on the platform. To help players get into the summer spirit, they're launching the Summer Specials promotion, with a huge collection of different games available and an incredible selection of prizes.
Kicking off on Monday 26th June, you can choose from various bingo games, each with its unique theme.
First up we've got the bingo90 90's Club Party, where you can enjoy a bingo game inspired by 1990s pop culture and have the chance to claim a share of the £58,000 prize! There will be £500 Full House prizes in every game and a £10,000 Full House prize in every Link round.
You can also take part in the bingo90 Cash Climber, which offers a guaranteed prize of £75,000 and features Full House prizes that climb from £5,000 to a whopping £10,000 across 11 games.
The Pulse Party game offers £25,000 worth of guaranteed prizes, while playing £2 on Reel Bingo on Free Play Thursday will award you with five free plays on the tombola arcade!
On Friday 30th of June, a total prize of £20,000 will be up for grabs in Cinco Links with prizes of up to £500 available in every game!
If you're looking for excitement, £1k Saturday can see you win a share of an astonishing £11,000 in just 60 minutes, with a £1,000 5-line prize up for grabs in every bingo75 Lines game.
In Back 2 Back Lite Links, you can play from just 2p and win up to £1,000, with £11,000 in Full House prizes available.
That's not all!
Believe it or not, that's not the end of the fantastic game and prizes you can claim during the tombola Summer Specials promo. Again, all of the following are free from wagering requirements too!
The Step into Summer Prize draw is available on the tombola arcade and offers the chance to £1,000 in cash of free plays from just a £2 opt-in. This offer is only available between 8 pm and 10 pm from the 30th of June to the 3rd of July, so make sure you don't miss out!
The fun even extends to social media too! Bingo Lingo Bonanza will be running across the tombola's Facebook and Instagram channels for the duration of the promotion and offers up to £5,000 worth of prizes to be won every day!
There are different prizes to be won on every day of Bingo Lingo Bonanza, including an overnight spa break, garden furniture, a Ninja BBQ, 10 £100 Asda vouchers, an Apple iPhone 14, an Apple iPad 2022, and up to £100 in bonus money.
For the chance to win some of these fantastic prizes, be sure to check out the tombola Facebook and Instagram pages, where you can take part in bingo-themed picture quizzes.
Every day, an image will be posted on social media, and entrants must guess what bingo number the image is referring to. Post your answers in the comments for the chance to win one of the wonderful prizes! Winners will be chosen at random from all correct answers.
Finally, tombola will be running daily games across tombola and tombola arcade, with £50,000 in prizes to be won on the Free Form and Super Spins games. The best part about it is that these games are completely free to play!
Check out some of the games and offers running throughout the promotion and you could have the chance to claim one of the amazing prizes!
Terms and Conditions
All of the Summer Specials games and offers are subject to tombola's promotional rules.
For shared prizes, players win a proportionate share relative to their stake.
To be eligible for Free Play Thursday, players must qualify by placing a £2 stake on Reel Bingo between 8 pm and 10 pm during the promotional period.
Free plays are valued at £0.10 each and can be played on any arcade game.
Free plays are valid for 7 days and cannot be used as a qualification stake.
Creating multiple accounts to participate in promotions multiple times will result in accounts being terminated and all winnings made void.
For social media promotions, participants must post entries as comments and include their tombola account name in their posts.
Only one prize will be awarded per household, per competition.
Winners will be announced on social media. It is the entrants' responsibility to check whether they have won.
Prizes must be claimed within 30 days of the winner being announced
Are you ready to kick-start your summer with some superb bingo action?