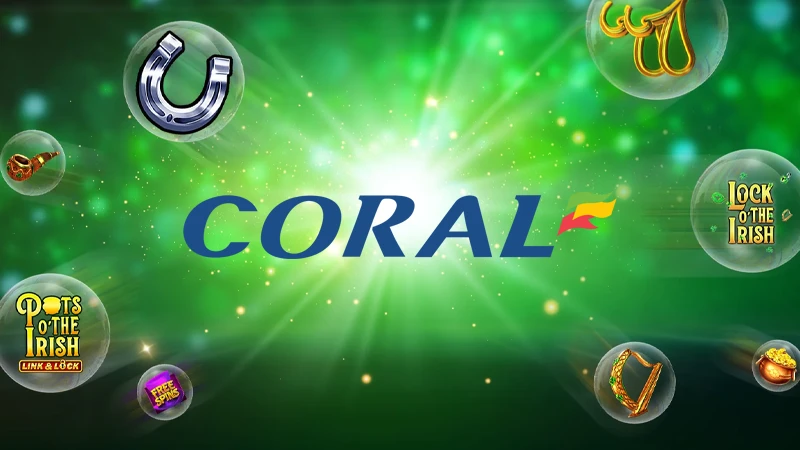 Coral's Rewards Grabber promo has been up and running for a few weeks now, and in case you weren't already aware, it's one not to miss!
This bonus can be played once per player per day, for free, until further notice. It's not often you come across a promo which offers a guaranteed prize every day, let alone one which lets you swap that prize if it's not what you were hoping for!
Available prizes
You're guaranteed to walk away from the Rewards Grabber with something. Players also get the opportunity to reject the first prize offered and try again. Among the guaranteed prizes which can be won by playing the Rewards Grabber are:
Coral Coins
Free Bingo Tickets + Coral Coins
Free Bets + Coral Coins
Free Spins + Coral Coins
Casino Bonuses + Coral Coins
What's more, on certain days a boosted version of the game called Golden Rewards Grabber will become available, which offers the same range of prizes listed above, in addition to bundles of Coral Coins and £500 cash rewards.
Sign up with Coral to take part!
Terms, conditions & prize values
To qualify for Coral's Rewards Grabber promotion, you'll need to meet a few criteria, but they're fairly straightforward.
Eligible players must be aged 18 or over, reside in the UK, ROI, Jersey or Gibraltar and hold a verified Coral account. They must also be eligible to receive promotions generally, which means not having an account which has been promo-excluded for misbehaviour.
Prizes must be accepted within 48 hours and used within 1 week, so be careful not to let them expire.
The promo is running until further notice and the "selected days" on which the Golden Rewards Grabber can be accessed are not specified in the T&Cs, so you'll need to keep an eye on the promotion page.
All prizes include Coral Coins, which come in quantities of between 5 and 200. These can be exchanged for various other bonuses, but not for cash.
The number of free spins given away as part of a prize will range from 3 to 40, and each will have a value of £0.10. You'll find out how many you've won, as well as which games they can be used on, once the prize has been awarded.
Casino bonuses range in value from £2 to £20 and come with a 1x wagering requirement, so you'll need to re-wager your winnings once before you can withdraw them as cash, which isn't bad at all.
The free bets are always worth £1 and can be used on any sport. The same timeframes apply to these, but there are no additional requirements to meet, so whatever you win is yours to keep.
If you win bingo tickets, you'll get a bundle of 6, with each one being worth between £0.01 and £0.25. Once you win these, you'll be met with a pop-up window which explains which rooms you can use them in and exactly how much they're worth.
The Golden Rewards Grabber can be played on specific days only, and this affords players the chance to win a £500 cash prize with no wagering requirements or strings attached.
Sign up with Coral to take part!
How to claim
There are just a few simple steps to playing the Grabber. Best of all, there are no deposit requirements involved with claiming this promo!
Firstly, log in, or register and verify, if you haven't already (in which case take a look at the welcome promo mentioned below), and look for the Rewards Grabber promotion page.
The mechanics of the promotional game mirror those of a classic arcade claw/crane game–but with better odds! Just click to send the Grabber claw down.
The claw will retrieve a prize, and you'll be given the option to 'Accept' or 'Reject' it in the hopes of coming away with something better. Once you've accepted an icon, no more changes can be made.
Players can visit the Rewards Grabber page and play once per day, so don't worry if you don't get what you were hoping for this time round.
Coral Bingo
Coral offers a range of 20 great bingo rooms in addition to pretty much everything else a player could want. With free games, progressive jackpots, sports betting, exclusive chat games, table games and a solid community at the heart of it all, Coral pretty much ticks all the boxes!
They also have solid customer support and, whilst their bonuses do tend to have wagering requirements, they're often quite reasonable. For a deeper dive into what makes Coral great, and why you might want to register if you haven't already, take a look at our review.
Coral's current welcome promo offers new players a £40 bingo bonus with a 4x wagering requirement in return for a £10 stake.
Whether you're an existing Coral customer or just about to claim your welcome bonus, the Rewards Grabber Promo is a no-brainer thanks to the guaranteed daily prizes!