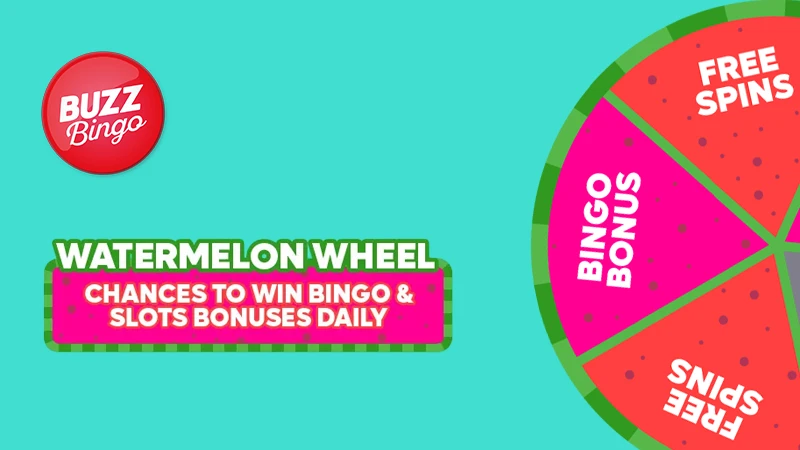 There are few things better than a fantastic game of bingo or spinning the reels on a top slot—apart from playing for free, that is! And thanks to Buzz Bingo's Watermelon Wheel, you can do exactly that every single day until 27th June.
Not many promos come as easy as this one and it won't take you long to access that spinner and grab your chance to hit some top prizes.
Prizes Available with the Watermelon Wheel
The prizes on offer are small but perfectly formed and they come your way instantly just as soon as you've taken a spin on the wheel.
As you can probably guess, the Watermelon Wheel can stop on various segments that each hold the key to a wonderful prize that is waiting for you to collect. It could be a bingo bonus or it might be some free spins on the superb Toot Froots Gold Splash game. These gifts have different values and, unfortunately, there is a segment that doesn't provide anything at all.
He is a rundown of the bonuses on offer:
3 free spins worth 10p on Toot Fruits Gold Splash
4 free spins worth 10p on Toot Fruits Gold Splash
Bingo bonus worth 25p
Bingo bonus worth 30p
Getting your hands on the deal
To take part in this promotion, you will need to have an account open before you start. This is easy to do and you can find out all the essential info about the perks and benefits that a Buzz Bingo account can bring you here in our full review.
Once your account is up and running, you just need to log in and the Watermelon Wheel promo will be displayed every day until the end of the promotional period. Here are the simple steps to follow to get that wheel spinning:
Log in to your account
Wait for the Watermelon Wheel ad to appear at the top of the screen or go to the 'Promos' page and find it there
Click on the ad
Scroll down and find the 'Spin Here' button
Wait for the new screen to open
Click 'Spin'
If you win a prize, click 'Claim'
Enjoy your bonus!
Make sure you're eligible
Some offers are for specific customers only and it can be a little difficult to take part. Happily, this is hardly ever the case at Buzz Bingo and these deals are readily available for all customers to enjoy.
Players need to ensure that they are UK residents and aged 18+. There's nothing else to it!
Terms to consider
The terms and conditions are important as you never know when there might be some small print that makes a promo less valuable than it first appears. We have gone through all of the T&Cs and are satisfied that this offer presents a good deal for players.
Here are a few things to note.
This promotion runs until midnight on Tuesday 27th June 2023 and after that point, you won't be able to spin this wheel. Don't worry though as it's likely that Buzz Bingo will release other promos after that date. Come back and check out our promotions page to see details of any top offers worth claiming.
You get to spin the Watermelon Wheel once a day and while it's possible to win prizes daily, remember that there is a 'no win' segment on that wheel. Also, on Monday morning, it isn't possible to play this promo until midday, so you might want to bear that in mind as well.
Keep an eye on the expiry date of your gifts as they are only valid for 30 days after you claim them. It would be a shame to miss out on those free spins or bingo bonuses because you ran out of time.
No wagering!
Buzz Bingo is a fan of wager-free prizes and this deal is no different. Naturally, you will have to play your bonus once to see if you win but after that, those prizes are yours to keep. If you hit a top win while playing the slots or you land a full house on a bingo game, for example, that money is all cash in the bank!
Don't forget the Buzz Bingo welcome offer
If you haven't yet created your account at Buzz Bingo, then you've got even more goodies to look forward to courtesy of the awesome welcome bonus for new customers. Here's a quick look at what's on offer.
The promotion comes in 2 parts and you can accept 1 or both if you like. The first is £40 in bingo bonuses and the second is up to 200 free spins on Fishin' Frenzy The Big Catch Jackpot King. In either case, you'll need to deposit and play a minimum of £10 to qualify.