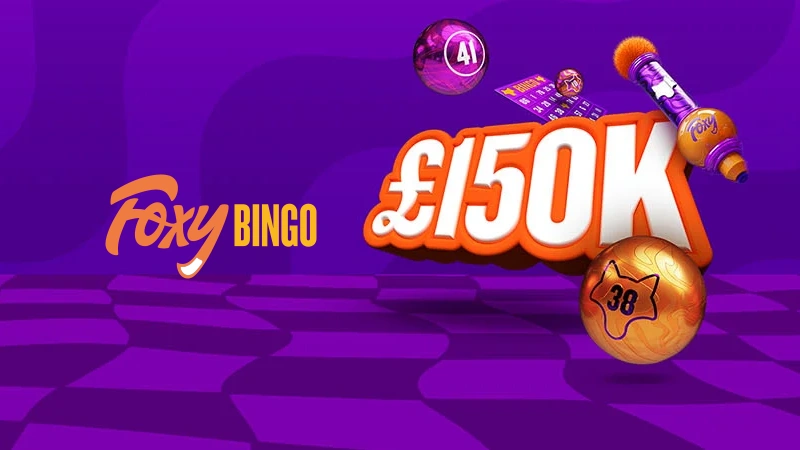 Foxy Bingo has announced a prize pool boost for individual games played on the 2nd of each month, bringing the total prize pot up to a tantalizing £150,000 per game. This isn't just your run-of-the-mill promo–it's Foxy's "biggest ever bingo bash"!
The prizes
The prize pool for each specific, eligible game has been increased to a total value of £150k, which is divided up and awarded as follows:
A single line wins a £15k prize.
Two lines will win you £20k.
A one to go (1TG) nets £7.5k. This is divided up between all players who have one number left to go when the initial full house is won.
A roll on (5 extra) is also worth £7.5k. This will be granted to the 5 runners up after the full house has been claimed.
And, last but not least, a full house wins the £100k jackpot.
Sign up and play at Foxy Bingo!
How to claim
Getting in the running for a share of the £150k prize pot each month couldn't be easier!
Firstly, sign up or sign in to Foxy Bingo. If you don't already have an account, keep reading for welcome bonus info and more reasons to join. Once you're verified, check that you can see the promo.
This promo is running until further notice, and the first big giveaway was on 2nd September, so if you can still access the promo page through the Foxy Bingo website, assume it can still be claimed.
The eligible game runs on the 2nd of the month at 9.00pm, so make sure you're joining the right game. You'll want to get there early so that you can pre-buy your tickets. Technically, tickets can be bought any time during the month leading up to the game, from shortly after the previous month's game. They cost £0.10 each, and players can purchase up to 100 per game.
Cross your fingers and wait for the game to begin. Don't worry if you don't win the top prize, as there are several more prizes being given away in the 'roll on' section of the game after the full house has been claimed.
Even if you come away without any prizes, just remember that there are always loads of other fabulous chances to play bingo and win top prizes at Foxy Bingo.
Terms and conditions
To be eligible to claim this promo, you need to be 18 or over and the UK-based holder of a verified Foxy Bingo account.
Eligible winners will have to share the value of their prize with other winners, including those playing on other brands within the Entain Bingo Network.
All of these prizes are paid in cash, so there are no wagering requirements or catches to worry about. The winnings are yours to do with as you please!
Sign up and play at Foxy Bingo!
Other Foxy bonuses
If you're not already signed up, the Foxy Bingo welcome bonus is definitely something to look at. New customers who spend £10 will be rewarded with a £40 bingo bonus, subject to a 40x wagering requirement, and 40 free spins worth £0.10 each to use on selected games. These bonuses expire after one week, so be sure to use them in time.
Those who can't wait until the 2nd might want to get involved in Foxy's Slots Tournaments promotion, which runs every day and gives players a chance to win up to 20,000 free spins. It's free to play, so just opt-in, head over to one of the eligible games, and see if you can make it onto the leaderboard.
Also, until further notice, the Foxy Freebies Rock Paper Scissors game is giving players no-risk chances to win prizes such as cash and free spins with no wagering requirements. This can be played once per day per player, so make the best of it while you can!
Foxy Bingo
Foxy Bingo is one of the best-recognised and most well-known bingo brands in the UK, and it's worked hard to achieve this status, offering generous bonuses and regular promotional periods to keep players engaged.
Although best known for its huge choice of bingo rooms, Foxy Bingo also boasts an impressive range of slots and live dealer tables. The customer support is 24/7 and it's easy to get in touch with an actual person, should you need to. Also, the banking options are varied and the minimums are very reasonable.
Whilst the chat rooms can be busy, this is because of the thriving community of bingo players that call Foxy home. Take a look at our full review for more information.
If you're tempted to join them (and haven't already), then now's the time! Head over to Foxy Bingo, get yourself registered, and be sure to log in on the 2nd of each month for a chance to win that £100k full house prize.