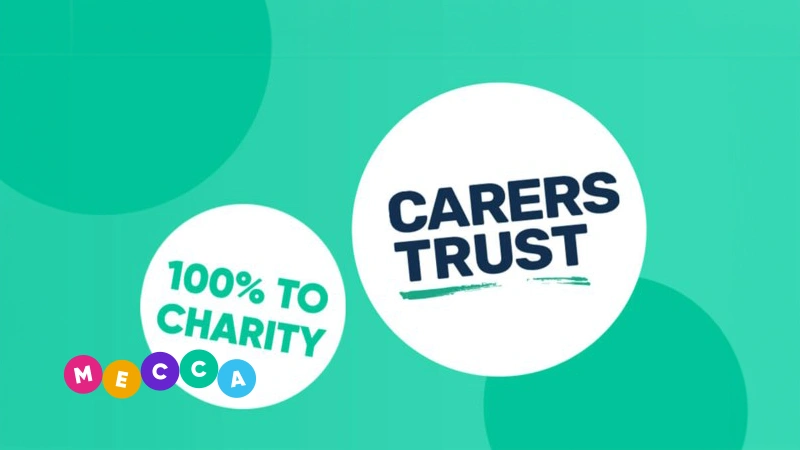 Mecca Bingo is scoring some good karma with its Carers Trust promotion. Whilst not a typical bonus, players will have a chance to win up to £125 in cash from tickets costing just £0.10. 100% of profits go to the Carers Trust charity!
Carers Trust
Founded by Princess Anne in 1991, Carers Trust is a UK charity supporting unpaid carers across the country, helping them cope with challenges involved in supporting those who depend on them.
Often, carers struggle to provide the services needed because of financial restrictions or time constraints. Carers Trust helps by awarding grants, publishing useful information, providing financial assistance where it's most needed, and by campaigning to improve the rights of unpaid carers across Britain.
Caring can often be a full-time responsibility, and many who fulfil this vital role rarely get time to themselves. Carers Trust supports hard-working carers a number of ways – including when they might need a break from their responsibilities, assistance in delivering their services, or help with housing and heating costs.
Mecca Bingo first started supporting Carers Trust more than 8 years ago. Since then they've done everything "from bake-offs to leg-waxing and head shaving, 24-hour karaoke to marathons, cycling relays and loads more!" Fun ways indeed to support a worthy cause.
This year, Mecca Bingo has already raised over £116,000 for unpaid carers. However, since they first began, Mecca's fundraising efforts have raised almost £2 million!
Get involved by signing up at Mecca Bingo!
The deal
As part of their regular bingo schedule, Mecca Bingo is offering players the chance to buy £0.05 or £0.10 tickets to specific games, which feature £50 and £125 total prizes, respectively.
Mecca Bingo has pledged all the profits from these selected games to Carers Trust, which they estimate will amount to around £13,000 a month.
This promotion gives players a chance to enjoy some great bingo at a top site, without spending a fortune on tickets, and with the satisfaction of knowing they're supporting a really worthwhile cause.
In order to support Mecca Bingo's fundraising efforts, players just need to head over to the Mecca Bingo site, join a qualifying bingo game, and dab away as they normally would.
Terms & conditions
This may not be the most conventional promotion out there, but it still has some terms and conditions that you'll want to take a look at before claiming.
All new and existing players are welcome to take part – you just need to be 18 or over and have a verified account. Whilst this promo is technically open to everyone, it's still worth checking that you can view it in your account.
The Mecca Bingo Carers Trust promotional bingo games run at specific times between 8:15am and 11:15pm. The number of eligible games varies from day to day. The promo began on 31 July and runs until 31 October 2024, so there's plenty of time to have some fun playing while supporting the Carers Trust.
The bingo rooms associated with this promotion are Lucky for Some, Penny Lane, Main Event, and Two Little Ducks. Only the profits from these four bingo rooms will be passed on to Carers Trust.
Players can buy tickets for £0.05 to enter games with a £50 total prize, or for £0.10 in the case of games with a £125 total prize. The former runs until 2:15pm and the latter begins at 3:15pm.
Get involved by signing up at Mecca Bingo!
Mecca Bingo
Even putting aside their philanthropic endeavours, Mecca Bingo runs an excellent site. It's one of the gambling industry's biggest names, hosting 22 bingo rooms, whilst also operating a number of physical brick-and-mortar bingo clubs.
Other reasons we like Mecca Bingo include that it hosts hundreds of slots, has 7 exclusive bingo rooms and the massive jackpots up for grabs!
If you haven't already registered with Mecca Bingo, now's the time. The current welcome bonus rewards newcomers who sign up, deposit, and stake £10 on bingo with a spin on their prize reel, which has a 99.99% chance of granting a win!
Prizes which can be won on the reel include cash bonuses of up to £120 and free spins, neither of which have wagering requirements attached. Also up for grabs are bingo bonuses, which have a fairly reasonable 5x wagering requirement.
Whether you're new to Mecca Bingo or an existing player, isn't it time to show the Carers Trust your support?