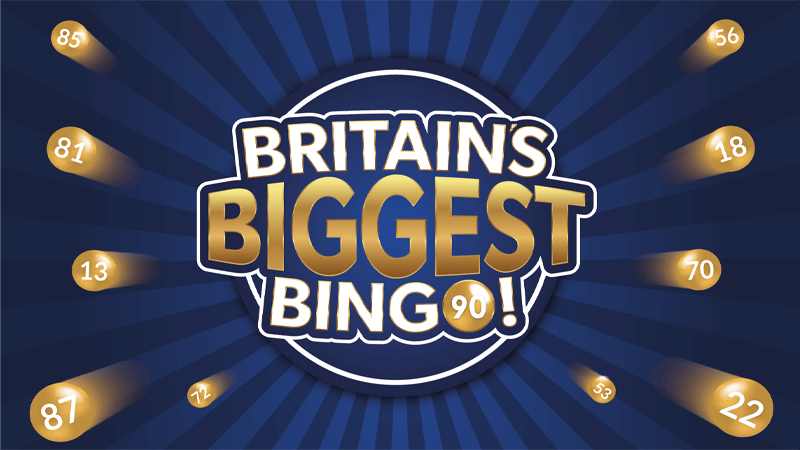 On the first of every month, there is a special bingo game hosted at tombola bingo. The no wagering bingo site delivers a gigantic prize with Britain's Biggest Bingo. Living up to the name, the bingo game delivers a guaranteed full house prize of at least £100,000 with the potential to go even higher.
Tickets start at 50p with every strip containing 6 tickets. There is even the potential to buy 4 strips at £2 equalling to 24 tickets! Tickets can only be bought up to 30 days before the game is cut to start and the cut off for purchasing tickets will be shortly before the game starts.
So if you love massive bingo games with no wagering requirements attached, then tombola bingo is the place for you. Be sure to keep on reading to find out more about Britain's Biggest Bingo!
Over £100,000 to be won
As one of the biggest bingo sites in the UK, tombola bingo is a host to thousands of players who enjoy safe and entertaining bingo games. There are over 26 different types of bingo games available including Pulse and bingo30! Each of these rooms have individual chat rooms with different hosts. There is even the option to play bingo with no chat if that's what you are looking for.
Whilst these games have big prizes attached to them, none are as big as Britain's Biggest Bingo that runs on the 1st of every month. The game lives up to its name with a guaranteed full house prize of £100,000 with the potential to go higher. Every single winner in the past couple of months has won over £100,000.
The tickets can be purchased straight after the last game with up to 4 strips available for purchase per customer. After this, all you need to do is wait until the 1st of the month at 9pm to start Britain's Biggest Bingo Game!
When the game first started in November 2022, the lucky winner won a staggering £239,168.20. Similarly, the winner in December 2022 also won over £200,000 with a win of £211,667.79. The momentum continued throughout January 2023 with a massive win of £177,782.60. Both February and March 2023 saw huge wins over £100,000. Hopefully, April and May 2023 will see larger wins over £200,000 like the first couple of months.
The £100,000 prize is progressive and could increase depending on the ticket sales. Therefore, the more tickets sold, the bigger the prizes. This means that every single penny of real money stakes will be added to the Full House prize.
There are other massive bingo jackpot games out there, such as the £100K Game available at Entain bingo sites such as Coral Bingo and Foxy Bingo - but these only award a share of £100,000 meaning that the prize will be split with others. If you are wanting a fat stack of cash to yourself, then your best bet is tombola's Britain's Biggest Bingo Game.
Join Britain's biggest bingo site!
If a £100,000 bingo game wasn't enough for you, then how about frequent jackpots throughout the month at tombola bingo? You'll find that these jackpots often reach into the thousands and guarantee full house wins.
The best part about these games is that you'll not be able to play them anywhere else as tombola bingo hosts on proprietary software meaning that all the games are created in house. This also means that you'll only have the tombola community in your games and we have to say it's one of the most supportive and friendly communities that we've come across at Best Bingo Websites. You'll even find the chat hosts are always giving stuff away!
At tombola bingo, there tickets start from as little as 1p and never go any higher meaning that you won't break the bank. There are also free promotions and games that run at tombola bingo with examples including daily free games such as Free Vibes and Free Form.
However, the best aspect of tombola bingo is the access to tombola arcade. You literally have an entire arcade at your fingertips without having to go through the process of signing up. Your account balance will be transferred across so you don't have to worry about having two different balances.
Whether it's Britain's Biggest Bingo game with prizes over £100,000 or access to over 26 different bingo games, tombola is the place for you. Be sure to get your ticket to the next game of Britain's Biggest Bingo and see if you can be the next big winner!
Terms and Conditions
Prices for bingo tickets start at 50p and can go up to £2 for four strips.

Tickets can be purchased up to 30 days before the game.

The full house prize starts at £100,000 but has the potential to go even higher as the jackpot is progressive and dependent on the amount of tickets purchased.

tombola bingo is a no wagering bingo site and there will be no wagering requirements attached to any winnings.