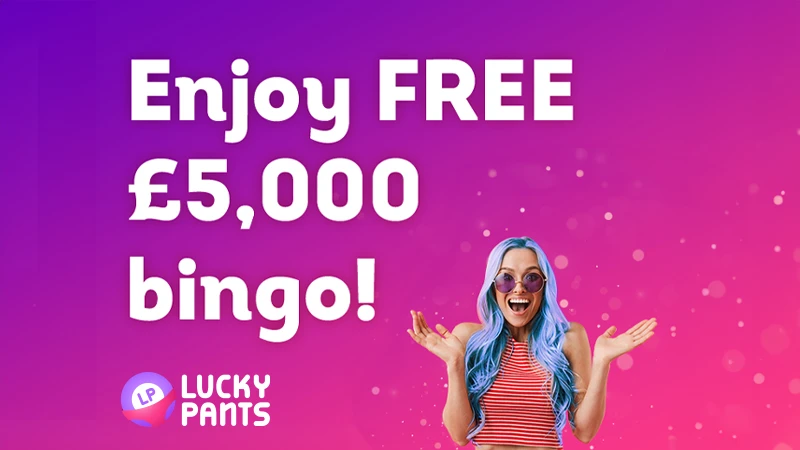 Enjoy free bingo at Lucky Pants Bingo and grab your chance to land part of the weekly £5k payout. It's all part of a new promo that's set to run right up to 2030 and getting involved is super simple!
Every other game is free in the Cheaper Than Chips Room, running from 8am to 10pm daily, where you can be in with a chance of winning a share of the guaranteed prize. There's also the added bonus of 1p games with up to £250 to be won while you're there.
If you're a fan of free bingo and a shot at a daily prize fund from now until the end of the decade, Lucky Pants Bingo is where it's at.
How it works
Register for an account at Lucky Pants Bingo, and you'll be eligible to take part in the daily free bingo games in the Cheaper Than Chips Room. Every other game is free, so you're playing one paid game, then a free game for the chance to win a share of the £715 daily prize pool. The Cheaper Than Chips Room is hosting these on/off free games from now until 2030, as well as 1p bingo games where there's another £250 in prizes to be won.
The total prize money available in the free games is guaranteed at £5,005 per week. All you have to do to be in with your chance of winning is to take part. Head over to the Cheaper Than Chips Room and fire up your first paid game to be eligible for the free bingo play, where guaranteed prizes lie in wait for lucky players.
Every other game is free right throughout the day, every day, from 8am to 10pm, plus there's also the chance to land bigger prizes in the MEGALINKS games when you're done. It's all part of what's driving more and more bingo fans towards Lucky Pants Bingo for their online bingo play, alongside fun chat and an impressive selection of games.
The terms and conditions
Terms and conditions apply to this promotion, as with all others. But they're pretty simple considering you're getting free bingo from now till the end of the decade!
For starters, the promotion is only open to Lucky Pants Bingo customers and you need to be 18+ at the time of entry. You also need to be able to see the promotion from within your account to be eligible to take part. The promotion runs every day until further notice and will take place in the Cheaper Than Chips Room from 08:00 to 22:00 every day.
Prizes are paid out as part of the normal bingo schedule, with a guaranteed minimum of £715 to be won daily. Normal terms and conditions apply, but these aren't especially unusual or complicated, though we encourage you to read them, along with the full promo T&Cs.
Other than that, Lucky Pants Bingo reserves the right to end the promotion early, to request ID verification from players and to remove bonus funds in the event of bonus abuse – all pretty standard terms you'd expect from any bingo promotion. All that's left is to enjoy the free bingo you're eligible for as part of this promotion for as long as it lasts.
About Lucky Pants Bingo
Lucky Pants Bingo is an 'especially cheeky' bingo site that's been delighting online bingo fans since as far back as 2013. Bringing a bit more 'zeal to the deal', it's a bingo site that's packed with promos, bonuses and tongue-in-cheek fun. Not to mention a huge selection of bingo and other games, making it a firm favourite among the more sociable online bingo fans.
Its 24-hour chat rooms and fun chat hosts are helping to win over growing numbers of players all the time. And now, with free bingo on offer, there's never been a better time to get involved.
So slip into your luckiest of pants, sign up for an account and get started with free bingo every other game!