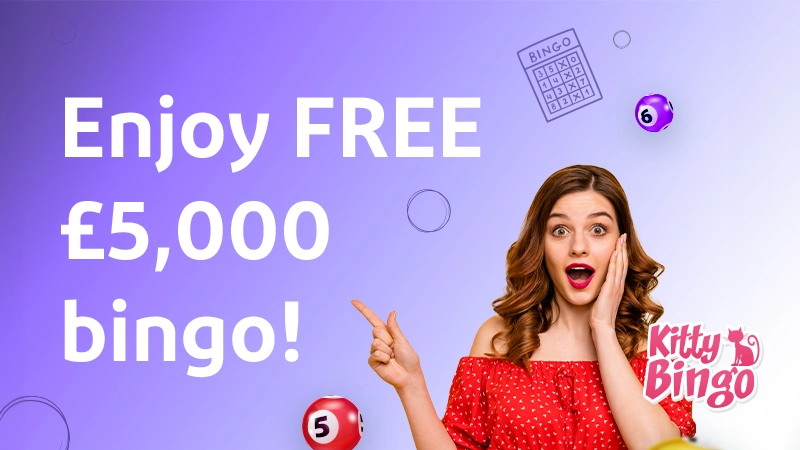 It's not every day that you get a chance to win cash while playing free bingo!
In this long-running promotion, which is valid every single day, Kitty Bingo is offering players the chance to play every other game for free in its Bargain Box Bingo room. There are various cash prizes to be won, which are guaranteed to total more than £5k per week.
They are also hosting plenty of games for as little as just 1p, so it seems like Kitty Bingo may be the perfect place for bargain hunters!
The deal
In Kitty Bingo's Bargain Box Bingo room, free games and paid games are being alternated, which means that every second game you play is free!
Each day, the prizes for these free bingo games are guaranteed to amount to at least £715, which will be paid out as cash, and this promo will run as part of the normal bingo schedule on the site.
Kitty Bingo is also offering 1p bingo games with a top prize of £250, and high-rollers will find even bigger prizes in their MEGALINKS games.
Terms & conditions
You can find the full terms and conditions on the promotion's page, but here's a general overview of things you'll want to know before heading on over to the Bargain Box Bingo room:
This promo is only available to UK residents who are aged 18 or over
You'll need to be able to see the promo in your account, so be sure to check it's there before playing
The promotion runs every day between 08:00 and 22:00, so early birds and night owls should keep an eye on the clock
This promo only applies to bingo played in the Bargain Box Bingo room, where every other game will be free
The "£5,000" which is mentioned refers to the weekly total, so daily prizes are guaranteed to be at least £715
Normal bingo rules, regulations, terms and conditions still apply—this promo is part of the standard Kitty Bingo schedule
Timeframe
This promo began on July 17 2023, so it's fairly fresh. However, it's not planned to end until December 31 2030, so there are several years of free games ahead!
The other time-related factor you need to be aware of is that this promo isn't available early in the morning or late in the evening. Time flies when you're having fun, so be mindful of the clock to ensure that you don't join a paid game.
How to claim
Claiming this promotion couldn't be easier.
Register for an account at Kitty Bingo and check out the welcome bonus too
Head over to your account page, and if you're eligible for this promo, you'll be able to see it listed
Ensure that you have some funds in your account as you'll still need to pay for the other half of the games in the bingo room if you stick around
Check that you're within the time window (between 8am and 10pm) and find the Bargain Box Bingo room
Kitty Bingo promos
Kitty Bingo was already a great site even before they sprang this incredible promo on us! They offer more than 18 bingo rooms, loads of slots, and plenty of live dealer games, plus a reputation for generously giving away huge numbers of prizes with a total value of more than £2 million each month. And all of this is in addition to having a loyalty programme that rewards returning players with bonus spins.
On top of this free daily Bargain Box Bingo promo, Kitty Bingo offers daily spins on the Kitty Wheel, which can grant bonus points and free games.
Also, those who are new to the site can enjoy a 200% bingo bonus of up to £20 as well as 25 free spins on Fishin' Frenzy: The Big Catch. All you need to do to claim this is register and deposit at least £10. Alternatively, new players who use the code "KITTY" and wager just £5 on bingo are eligible for a £25 bingo bonus.
Find out more about this excellent bingo site with our comprehensive Kitty Bingo review.