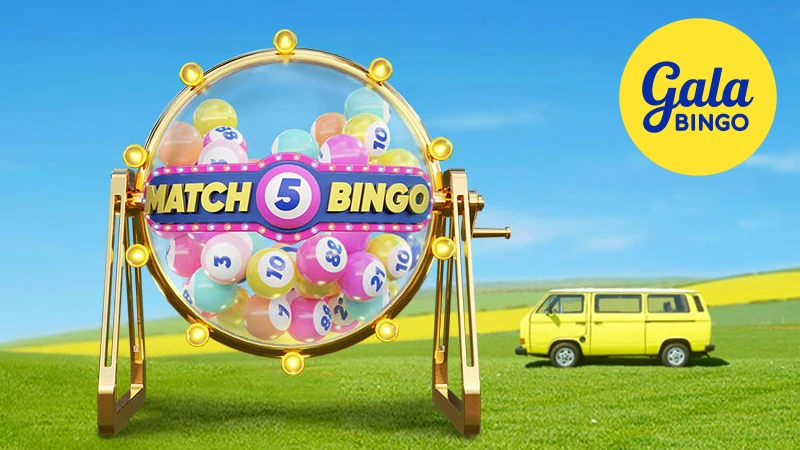 Gala Bingo has long been considered one of the best places to play bingo in the UK with its network of physical bingo halls and online bingo rooms. Now, the brand just got even better, thanks to its Match 5 Bingo promo —a free daily game giving you the chance to win big bingo bonuses without spending a penny.
Until further notice, players at Gala Bingo are in with a shot of winning a prize of up to £100 in bingo bonuses every day for free, no catch. All you have to do is match 5 numbers on your free daily bingo card, from a total of 36, in 36 calls or less, to win a prize. Do it in 8 calls or less, and you're on for the full £100—not bad just for taking part!
The Match 5 Bingo game can be played once per day per player, so you've got multiple chances to land a win each week. You can choose to keep the default card when you fire up the game or even switch to another if you'd prefer different numbers. And there's never any spend required to play the game—simply load Match 5 Bingo from the Games Lobby inside your Gala Bingo account to take part each day.
It's yet another way Gala Bingo is pulling out all the stops to keep their players happy.
Match 5 Bingo - How It Works
Match 5 Bingo is a simple 36-ball bingo game in which players are presented with a default ticket which can be kept or switched before the numbers begin to be drawn. Called numbers pop up on the screen and are automatically reconciled with your ticket—land the 5 matches you need in 8 or fewer calls, and you'll be on for a maximum possible win.
If you're a winner, you get presented with a popup telling you how much you've won. Click 'CLAIM' to accept the terms and conditions, and to activate the bonus within your account.
Remember that this is not a cash win; it's a bonus win. As such, some restrictions will apply. Fortunately, these aren't too steep, and players will find it easy to stay within the parameters of the bonus.
There is a 1x wagering requirement so this means you'll need to use your bonus amount and then you can withdraw any winnings that come your way. This must all be done within 7 days.
The Prizes on Offer
At its highest, players matching 5 numbers in 8 calls or less will land the £100. Match in 9-15 calls, and you'll still get a 50p prize. 16-25 calls sees you in for 20p, while 26-36 lands you 10p. Bearing in mind it's completely free to take part in the Match 5 bonus game, it's still decent to walk away with something for nothing, even if you're not lucky enough to land the full £100.
Obviously, every player hopes to land the maximum £100 win here. If you don't succeed today, you might win tomorrow—with one play per day, that's a fresh start every day that could see you walking away a winner.
The T&Cs
Winnings are paid out as bingo bonus credit and are subject to a minimal 1x wagering requirement. So if you land the 50p bonus, you'll need to play this bonus amount before you're able to withdraw any winnings from your 50p bonus.
It is not possible to convert the bonus credit into cash. Only subsequent winnings from the bonus can be withdrawn, so it's effectively a chance to win free bingo play with the opportunity to land real, withdrawable cash prizes later down the line.
Wagering requirements need to be met within 7 days of the bonus being awarded to avoid forfeiture. This includes anything remaining in the Bonus Balance or the Pending Winnings wallet, so be sure to meet the wagering requirement ASAP once your bonus becomes active.
Take Advantage of the Match 5 Bingo Promo at Gala Bingo
Gala Bingo has put together a fun promotion with Match 5 Bingo that will give you a chance to play your favourite game each day and the fact that it's a free chance to win means you can enjoy more bingo fun in your week.
Sign up for an account, if you haven't already, and get involved with the Match 5 Bingo promo at Gala Bingo.