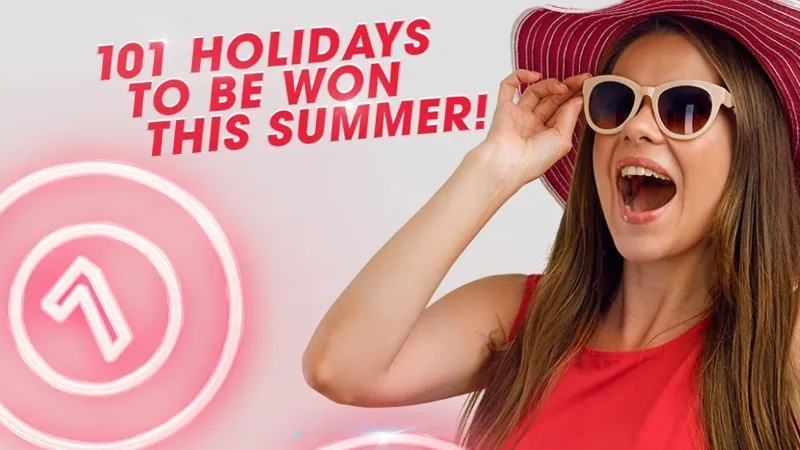 This summer, Heart Bingo's 101 Holiday Giveaway promo has £30,000 worth of sizzling prizes to hand out to 101 lucky players. It's easy to take part and you could walk off with the top reward of £5,000 to spend on a holiday of your choice or other gifts.
It's not the first time that this award-winning bingo site has wowed us with a big-value promotion and as always, Best Bingo Websites is here to give you the lowdown and show you what you can win and how to take part.
What can I win?
While there may be 101 prizes on offer with this fab promo, they only come in two distinct varieties.
£5k top prize
£250 for everyone else
It is always nice to keep things simple and Heart Bingo has certainly done that with their selection of prizes this time around!
The above rewards come in the form of Love2Shop vouchers and if you are familiar with these gift vouchers, then you will know just how versatile they are with an incredible selection of holidays, experiences, days out and other products available.
Love2Shop Vouchers
Winners of one of these vouchers are able to go to a selection of websites that represent hundreds of Great British brands and give you easy access to redeem your winnings. For the lucky £5K winner, they can head off to love2shopholidays.co.uk and take their pick of any incredible getaway up to the full value of their voucher.
This vacation treat can be taken anywhere in the world as long as it comes within budget, so you never know where this offer might take you. It's time to start dreaming and enjoy some bingo games to take part!
For the lucky 100 second-place winners, the £250 vouchers can be redeemed against the holiday, experience or other types of getaway gifts available at buyagift.co.uk. You could treat yourself to a spa and beauty day, a two-night city break or perhaps afternoon tea at one of London's classiest establishments.
Alternatively, winners can head to the love2shop.co.uk main website and make that purchase from any of the products available at this site.
How to win your dream holiday
The key dates to note in your diary for taking part in this promotion are the 7th April 2023 and 7th May 2023 as between these dates is the only time you'll be able to play eligible games to get your name in the hat.
It is up to you what games you decide to play; what's most important is that you spend £10. This gets you 1 entry into the prize draw and you could spend it on slots, bingo or any other entertainment available at the Heart Bingo site.
But before you rush off and spend your tenner, spare a thoughtful the double entry loophole! While spending £10 on slots and other games gets you 1 entry into the prize draw, bingo games actually get you 2 entries. It makes sense to spend some time in the bingo rooms if you're serious about landing one of these incredible holiday vouchers.
The great news is that there is no limit to the number of entries you can have, so you can increase your chances by getting your name in there multiple times if you wish.
Winners will be decided on 8th May 2023 and are picked at random with each player only being able to land 1 prize. You'll receive an email just after the draw to tell you if you won and then you just need to sit tight and wait for your voucher code to turn up. It's important to look out for this email because if you don't confirm within 7 days of receiving it, your prize might just be given to someone else.
Becoming a Heartie!
To take part in the holiday giveaway, you will need to be a fully signed-up and verified customer at Heart Bingo. To do this, you simply need to follow this link to create an account.
You only need to enter a few key details to show who you are and when that's done, you'll need to send in some proof of your identity and a source of funds to keep everything above board and in line with UK laws.
Check out the welcome offer
When you create your account with Heart Bingo, you also have the option of opting into an amazing welcome offer. They currently have 500 free bingo tickets and 25 free spins available for new customers signing up at their site.