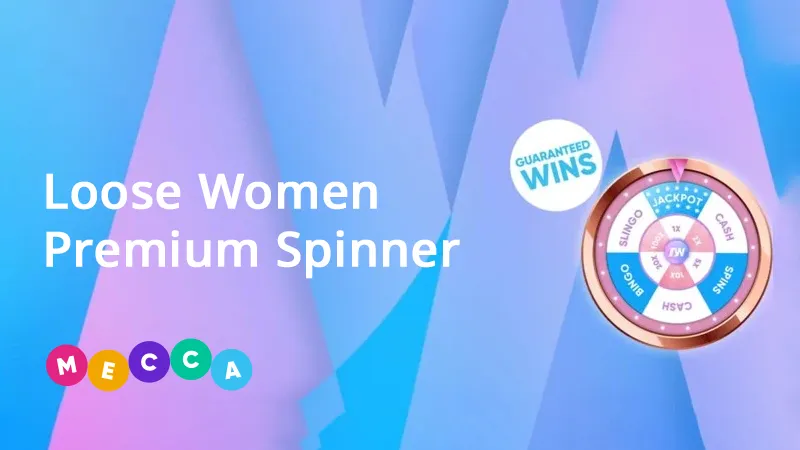 Throughout April and May 2023, Mecca Bingo is teaming up with Loose Women as their Official Bingo Partner, and this can only mean 1 thing—awesome promos!
Every day during these 2 months, players at Mecca Bingo can take a turn on the Loose Women Premium Wheel game to hopefully get their hands on loads of top prizes. There's a chance of landing between £1 and £1,000 each day plus 5-20 free spins with a value of 10p-20p per spin.
How to take part in the Loose Women Premium Wheel promotion
Naturally, you're going to need an account at Mecca Bingo to stand a chance of competing for these prizes. But don't panic if you haven't got one yet as this can be easily rectified in just a couple of minutes. Follow this link to open your Mecca Bingo account now!
All done? Perfect! Now let's see how this all works.
To qualify for a spin of the wheel, you'll need to deposit and stake £10 all on the same day. Once that is done, you'll be given your free spin the very next day. And it doesn't matter if you win while staking your £10 as everybody gets the free spin on the wheel regardless.
Using your free promo spin
With your free spin activated, you'll be invited to step up and take your spin. Simply click the button to get the wheel moving and wait for it to stop. Oh, and don't worry about trying to influence the outcome as it is completely random! It's also worth noting that the wheel is only available between 2pm and 12am each day.
Prizes on the Loose Women Premium Wheel promotion
Each segment of the wheel has a prize devoted to it and there are no 'lose' segments. This means that you're guaranteed a win whatever happens! Each player will receive a cash prize up to £1,000 or some free spins worth up to 20p per spin on a designated slot.
Cash prizes are delivered straight to your balance and you are free to use them how you want. Any winnings that arise from playing your free spins will also come back to you as cash—there are no wagering requirements in either case.
What's 'no wagering'?
Some promo prizes often have an additional step involved known as a wagering requirement, which makes it more difficult to get your hands on any winnings.
A £5 bonus with a 5x wagering requirement, for example, means that you need to stake a total of £25 before you see the benefits.
You would need to play your first £5, hope for a win and then keep going like this until the bonus money runs out or you have wagered a total of £25 and have some winnings left over.
Removing the wagering makes everything easier and you just collect your prizes and go!
Other promos at Mecca Bingo right now
Being a top bingo provider, Mecca Bingo frequently offers promotions for new and existing customers. Here are a few of the highlights that you might want to take a look at.
10% Cashback means up to £5 will be returned to you from any losses you accrue
£200k Giveaway is a prize draw with plenty of top payouts up to £5k
The Lucky For Some freebie bingo room lets you play every other game for free
Past and future spinners at Mecca Bingo
Mecca Bingo loves a spinner promo and they've only just finished up with their last one. During February and March 2023, they had a similar promotion running but the prizes weren't as good as the current Loose Women Premium Wheel promotion. Up to £250 was available in cash prizes previously, which was just 25% of what they're offering now.
There's every chance that the team over at Mecca Bingo will bring out further spinner bonuses when the current one finishes but it isn't guaranteed. If you're keen to get in on the action, then our advice is don't wait just in case!
Other bingo spinners
Another popular site that often features a spinner promotion is Buzz Bingo. They regularly bring out a fab prize wheel and at the moment they're offering a spin on the Spring Fling Spinner each day. There aren't any strict qualifying rules so why not get yourself an account open there too and take advantage of this deal as well?
The Kitty Wheel daily spinner at Kitty Bingo is another free daily spinner that can land you a host of top gifts. Everybody gets a spin when they go to the Daily Play section where the rewards could be loyalty points or slot bonuses. Wagering £25 at the site will also get you extra prizes on the wheel.
Mecca Bingo's Loose Women Premium Wheel T&Cs
The Loose Women Premium Wheel promotion will run from 3rd April to 31st May 2023.
The Loose Women Premium Wheel game will be available to play from 2pm – 12am every day from 3rd April to 31st May 2023.
The Loose Women Premium Wheel daily game is for all players who deposited and staked £10 in the previous day (from 01:00 – 00:59) and these qualifying players will receive one spin on the Loose Women Premium Wheel game
The game outcome of the 'Loose Women Premium Wheel' game is determined at random. Every spin of the wheel will result in a prize, there is no lose segment.
The prize segments on the 'Loose Women Premium Wheel' game image asset are for illustration purposes and don't represent the chances of winning each prize.
In the event that you qualify to play the Loose Women Premium Wheel game, and the game is unavailable on meccabingo.com, you will automatically be able to play on the next day when the game is available.
We will make every effort to inform you of any planned downtime of the 'Loose Women Premium Wheel' game, via the promotion and game page.