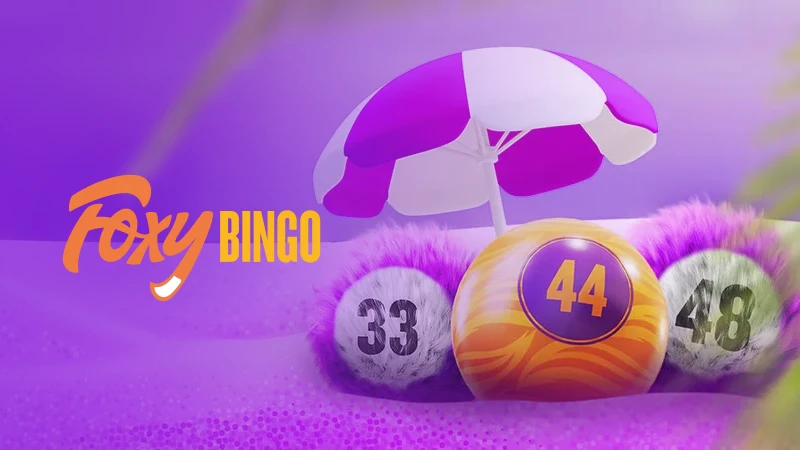 Whether the sun is out or not, Foxy Bingo is offering a seriously hot summer bonus right now, and it comes in the form of huge cash boosts to full house prizes.
Bingo players who manage to score a full house in the Forever Foxy Room will get to spin the Summer Winner's Wheel for a chance to up their wins by a whopping £1,000!
What's the deal?
Throughout July and August, full house winners at Foxy Bingo's Forever Foxy Room will get a chance to spin the Summer Winner's Wheel and potentially boost their prize by up to £1,000 on Fridays, or £20 the rest of the week.
Eligible games run frequently through the evenings, and players who buy 6 or more tickets are eligible to win. Foxy Bingo is already a fan favourite amongst bingo players, so this attractive bonus should come as a welcome extra to many.
How do I claim?
The steps players need to take to earn a chance to boost their winnings could not be more simple.
Either log in or sign up at Foxy Bingo. Many bingo fans will already have an account, but if not it's worth taking a look at available welcome bonuses, and consider signing up with them in mind.
Once the time is right (18:30 onwards), head over to the Forever Foxy Room. Bear in mind that the top prize is much higher on Fridays, so expect more competition then.
Buy a minimum of 6 tickets to an upcoming game. They cost no more than £0.20 each, and you can purchase up to 96 per game. Games run regularly throughout the evening, so you have multiple chances to win.
Cross your fingers, watch your tickets, and hope for a full house!
If you do win a full house, you and any other eligible players will be invited to spin the Summer Winner's Wheel, which has a range of cash prizes on offer.
Terms & conditions
As ever, you'll want to make sure you're aware of the terms and conditions before committing any cash.
Foxy Bingo's cash boosts run daily, and are worth between £5 and £20 from Saturday to Thursday, with the maximum value rising to £1,000 only on Fridays.
The promo runs from 7th July to 31st August, and it begins at 18:35 each day, with games kicking off regularly throughout the evening. You can find the specific times on the promo page.
Players need to buy a minimum of 6 tickets, which are 10p-20p each, in the Forever Foxy Room to qualify for the promo.
Players can buy up to 96 tickets per game.
In order to get a spin on the Summer Winner's Wheel, players need to win a full house.
If there are multiple full house winners, prizes are to be divided equally between them, and this may mean sharing with winners from other sites across the Entain Bingo Network.
Why Foxy Bingo is one of the best bingo sites
Our experts have tested, assessed and reviewed plenty of bingo sites in order to make the most informed recommendations, and our review of Foxy Bingo found that there were plenty of things to like about it.
First of all, Foxy Bingo always has free games for players who are feeling a bit budget-conscious or risk-averse but still fancy playing for fun. Free games are also a great way for new players to get used to how things work without putting cash on the line.
The customer service offered by Foxy Bingo is also worth singing about. They have support systems which are available 24/7 in case you run into any issues.
Also worth mentioning is the fact that Foxy Bingo offers a full range of casino games, in case you happen to fancy a break from bingo at any point. These include live dealer table games and a great range of slots.
The 20+ rooms which Foxy Bingo runs host a range of different types of bingo, from classic 90-ball games to more fast-paced 30-ball variations, so there's something for everyone.
Other promos at Foxy Bingo
We at Best Bingo Websites are big fans of Foxy Bingo, and that's in no small part because of the fantastic promotional offers they present to both new and existing players.
At the moment, for instance, new customers can get a £40 bingo bonus as well as 40 free spins for depositing and spending just £10. The £40 bonus has a reasonable 4x wagering requirement, and the spins, which can be used on a number of selected games, are valued at £0.10 each.
There's plenty to go around at Foxy Bingo, and summer is sizzling away, so consider heading over there for your chance to win a £1,000 cash prize boost!