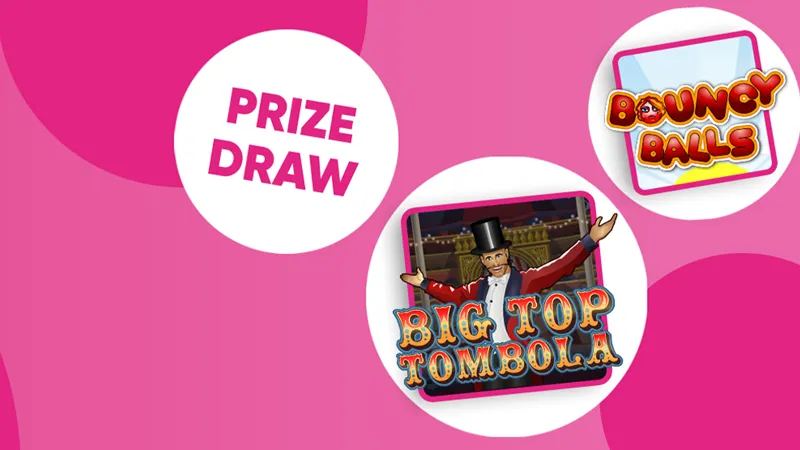 Want a chance to land your share of a massive £200k prize? All throughout April, Mecca Bingo is offering its faithful following the chance to land payouts up to £5,000 just for playing slots! Over 10,000 prizes will be handed out as soon as the promo ends on 1st May 2023 and if you get spinning on the right games during April, you too could walk away with a top prize.
The prize draw details
Every time you play £10 or more on the selected slots at Mecca Bingo during April, you'll get yourself 1 entry into the prize draw. You can have as many entries as you like; in fact, the more the merrier. You'll have a better chance of winning with your name in the hat multiple times after all!
As soon as April ends, all of the lucky winners will be revealed showing how much they've won.
How the £200k prize pool will be shared
There's one main prize of £5,000 available but there are 10,155 other prizes also waiting to be won. 15 winners will get £1,000 each, 40 people will get a tasty £500 cash treat and there are various others going all the way down to £10.
Games you can play to enter
You can play your qualifying £10 on any of the following games:
Age of the Gods Lord of Lightning
Big Top Tombola
Bouncy Balls
Cleopatra's Chest
Clover Rollover
Fireworkz Blitz
George and the Dragon
Mafia Millions
Marine Mayhem Mini
Pet Luck
Pirate Plunder
Snow Queen's Magic
Double entries on selected games!
From 24th to 30th April, you'll have an added bonus by getting double entries for playing certain games. The same £10 spend applies.
The following slots benefit from this add-on:
George and the Dragon
Bouncy Balls
Big Top Tombola
Pirate Plunder
Get your account open to take part
Opening a new account is a piece of cake and you can be up and running in no time. Simply follow this link to Mecca Bingo and head to the 'Join' button in the top right-hand corner of the desktop or mobile site.
Enter any of the details that are required, and within a few minutes, your account will be open and you can start playing. Remember to complete the verification process as soon as you can to avoid any unnecessary delays when it comes to cashing out.
Don't forget to check out the new player offers while you're there—more on that below.
Other Promos at Mecca Bingo
The big deal that everyone's talking about at Mecca Bingo is the new customer bonus. The spend £10 for a bonus up to £120 deal is available for anyone signing up for an account for the first time.
There's also the Loose Women Premium Spinner offering daily prizes up to £1,000. For depositing and staking £10, you get the chance to spin the wheel until the end of May 2023 and each spin is guaranteed to produce a win.
Finally, the Lucky For Some free bingo room lets players take part in every other game for free with prizes of at least £715 available every day. You can also take part in games in between the freebies with some priced at only 1p per ticket.
Other prize draws to consider
Foxy Bingo is currently running a promo where you collect daily stamps to be entered into one of the weekly prize draws

Betfred Bingo has the same prize draw as Mecca Bingo as they are both on the same Virtue Fusion Network
Mecca Bingo £200k Giveaway Promotional Terms and Conditions
The Meccabingo.com "Playtech Network Promotion" (referred to as the "Promotion") is only open to customers of Mecca Bingo who are aged 18 years or over at the time of entry

The promotion period starts on Saturday 1st of April 2023 at 01:00 and finishes on Monday 1st of May 2023 at 00:59 UK time.

To take part in the promotion, stake a minimum of £10 cash on any of the eligible slots to earn 1 free entry into the prize draw.

Eligible games for single entries: AOTG Lord Of Lightning, Big Top Tombola, Bouncy Balls, Cleopatra's Chest, Clover Rollover, Fireworkz Blitz, George and The Dragon, Mafia Millions, Marine Mayhem Mini (Bingo Lobby – Mini Games), Pet Luck, Pirate Plunder, Snow Queens Magic.

Earn double entries from 24th-30th April 2023 for stakes on eligible games*.

Eligible games for double entries: George and The Dragon, Bouncy Balls, Big Top Tombola and Pirate Plunder

Players will be automatically entered into a prize draw to win a share of £200,000.